This post may contain affiliate links. This means I may receive a small commission if products are purchased through them. All opinions are honest and remain my own.
The first time I saw a cat in a backpack I almost died from cuteness overload. After all, carrying a cat around with me all day had pretty much been my secret fantasy since I was about eight years old. I was a little sad that it had taken me so long to hear about this popular trend, but excited to look into the different styles and see what cat carrier backpacks were all about.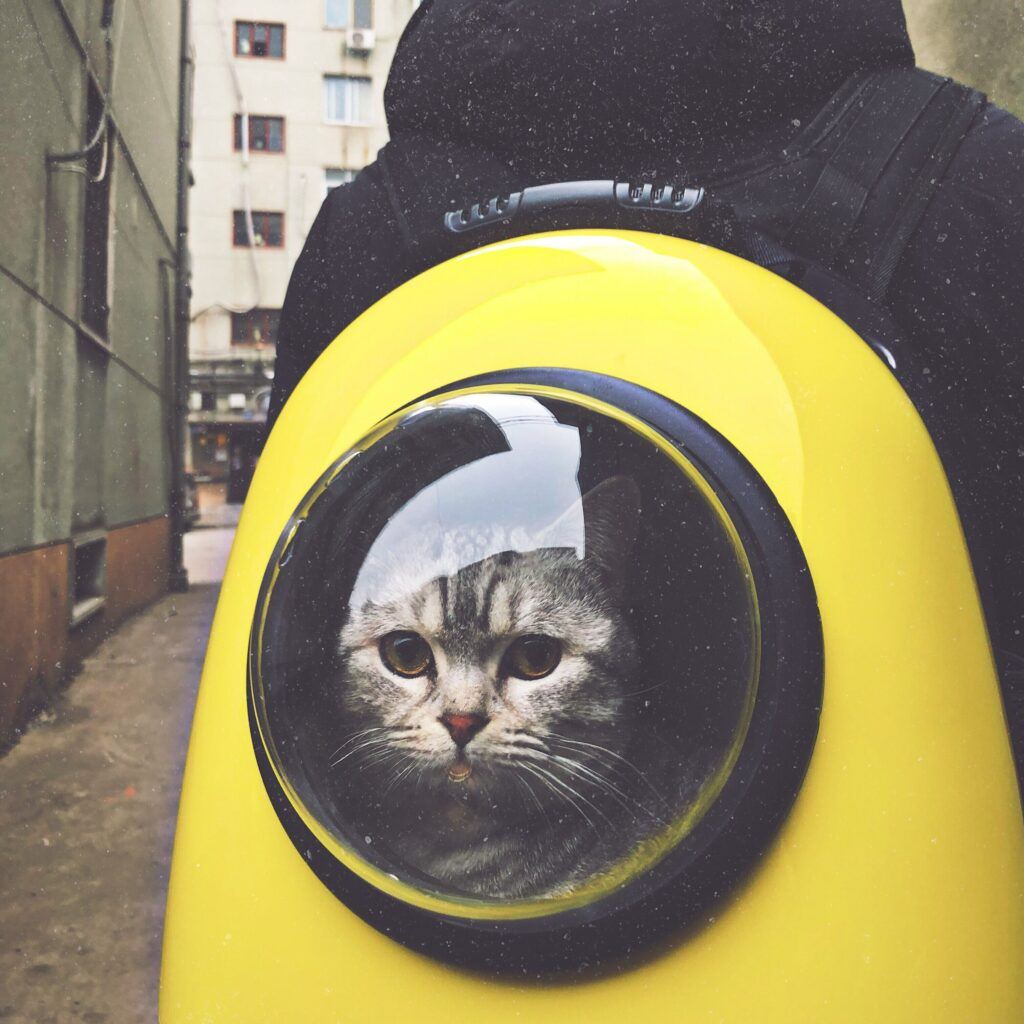 What is a cat carrier backpack?
A cat carrier backpack (or cat backpack carrier – I've seen it both ways) is simply what it sounds like. It's a cat carrier that you wear as a backpack instead of holding in your hands like its traditional predecessor. This gives it a distinct advantage over a handheld carrier because you have your hands free to do many other things while traveling with your cat.
Common situations which are well-suited for a cat carrier backpack could include:
Hiking
Camping
Air travel
Bike riding
Vet visits
Trips to the groomer
A simple walk around the block!
A cat carrier backpack could be a great solution for letting a cat who wants to go outside get some fresh air and adventure while still keeping him safely in tow.
Do cats like carrier backpacks?
One of the most brilliant aspects of a carrier backpack (and this makes sense, having known and travelled with a lot of cats over the years) is that many cats actually prefer them to traditional handheld carriers. It more closely resembles you holding them, and according to customer reviews cats often get so comfortable that they fall asleep inside them! My cats have always hated traditional carriers, so something like this is definitely worth a try!
It does make sense if you think about it. Cats like to tuck into little spaces where they can peek out around them to feel safe and protected. As long as your cat feels safe with you and is generally agreeable to being toted around, there is a pretty good chance he or she would take to it just fine after getting used to it.
The specific type of backpack carrier you choose might make a difference in how much your cat likes it. Some styles are completely transparent, while others have windows only in certain places. I've carefully gone over all of the cat carrier backpacks that I can find on the market, weighed the pros and cons, and am ready to recommend what I feel are the best options.
**One of the biggest factors in deciding on the right cat carrier backpack is shape and size. Make sure to note the weight limit and dimensions on each product before purchasing.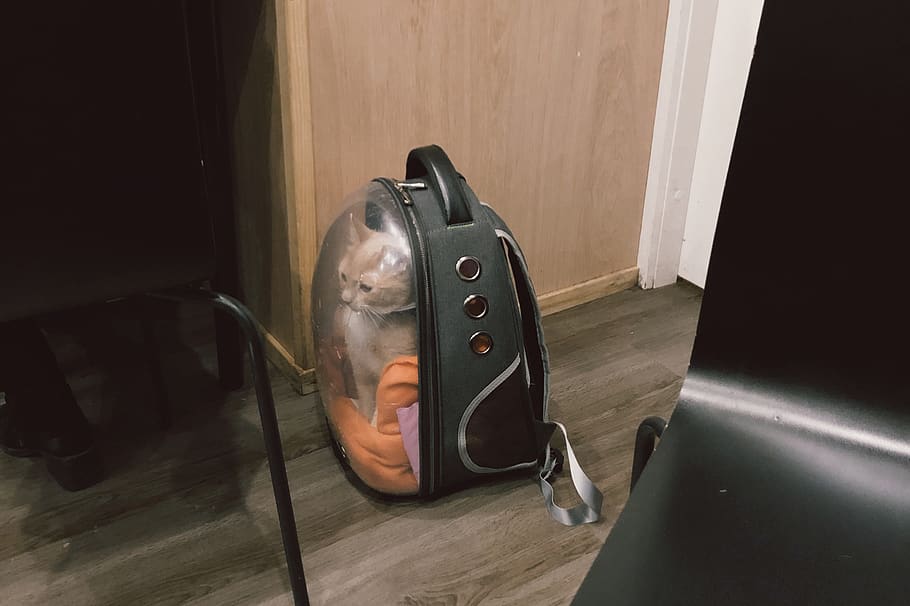 Top 8 Recommended Cat Carrier Backpacks
** I'll note here that the order I have these listed in is not a ranking of best to worst. I think that all of these backpacks are quality products and the right carrier for you will depend on which features are most important to you and your cat.
PetAmi is one of the most reliable brands in cat carriers. This deluxe backpack has the best customer ratings due to a few factors. First, the backpack is well-constructed and structured so that it won't lose its shape and collapse in on itself like some other carriers on the market. It offers that firmness of construction AND the breathability of the mesh style.
It's also popular due to its comfort. It features extra thick straps, as well as both chest and waist straps for additional support. This backpack comes in 9 cute color choices, which I always think is a good sign. The product is doing well enough that they are able to offer it in multiple colors.
Safety lock features and a collapsable pet water dish are added bonuses, which makes this cat carrier backpack a smart and practical purchase.
Con: It doesn't have any lower windows for cats to look out while they're laying down.
This smaller version by PetAmi solves my issue with there not being any lower windows for cats to look out. It has a nice wide window on the bottom, as well as a breathable mesh top and side windows. Like the deluxe version, this backpack features chest and waist buckles, sherpa lined bedding, safety lock features, choice of colors, a collapsible water dish, and above all else – superior construction and stability to make sure your loved one rides in comfort.
This smaller size only supports cats up to 12 lbs, as opposed to the 18 lb limit of the PetAmi Deluxe. When purchasing a carrier backpack, I would err on the side of caution when it comes to what size you think your pet might need. I wouldn't try to fit a 12 lb cat into a carrier whose weight limit says its 12 lbs. Always leave some wiggle room to be safe.
That being said, for a petite person with a small cat, this backpack would make an excellent choice.
Con: It only has one entry opening.
Now I like this carrier because of its mesh breathability and maximum viewing area for cats to look around. Texsens is another well-trusted brand when it comes to pet carriers. This particular Texsens backpack features a spacious design that can hold up to a 15 lb cat. It has a top entry opening, as well as one on both of the sides.
This traveler is idea for curious cats who want to get a good look at their surroundings. I like the placement of the two storage pockets on the side – they are low enough so a kitty could still see outside, even in a crouched position. This mesh style also comes with safety features and removable sherpa bedding. It folds up flat for easy storage.
Con: No protection from the elements if it starts to rain.
This one definitely gets my vote for being the cutest. I know that my cat would appreciate the great view that this type of clear front window shell style has to offer. These space capsule style designs are super popular for their eye-catching quality, as well as the protection it offers against the elements. Because it's not as breathable as the mesh styles, Lollimeow offers this small USB chargeable fan that fits neatly into the side pocket, giving your cat more ventilation and air flow.
Lollimeow offers this adorable cat carrier backpack in green, red, yellow, OR in an expandable black version. The expandable version is nice because it allows your cat a little extra room to relax when you're not in motion.
Con: You need to purchase the portable fan separately because this design is not quite as well-ventilated as others.
This design by LEMONDA leans even more into that really trendy space capsule look. Its round bubble window is absolutely adorable and fun (especially for all the people walking behind you!) It has excellent customer reviews and features a hard shell front with ventilated sides. Good luck deciding which color you like best – all 8 are completely adorable!
Lemonda also offers this flower-patterned dome window alternative, which would allow even more fresh air for your kitty.
Con: Doesn't have an over abundance of viewing ability for your cat.
This design by Petsfit is my favorite for longer excursions such as hiking or canoeing. I like it in the same way that I like the PetAmi small size carrier – it has a nice practical, well-shaped design with low mesh windows on all three sides. The straps are thick and comfortable, with extra supports at the chest and waist. This design is critical for longer periods of walking.
The Petsfit Comfort offers support for up to 16 lbs, as opposed to the 12 lbs of the smaller PetAmi. Both of these products are excellent cat backpack carriers and which one you decide on would just depend on the size of your cat.
Con: Doesn't have any extra storage compartments.
This is my choice for a very large cat, or two small cats together. With a 22 lb weight capability, this is one tough backpack. It features a space capsule dome window, mesh side windows, and a faux leather exterior. This PETRIP carrier offers excellent protection for you kitty while still being breathable through the mesh sides.
The backpack shoulder straps are extra thick and soft, designed to be more comfortable while transporting more weight. This is another carrier that comes with a collapsable water dish as an added bonus.
Even though it is on the larger side, it says that it is still airline approved, although you would have to check with the specific airline to be sure.
Con: No store compartments; Doesn't come in additional colors.
This ultra mod style combines the fashion element of cat carrier backpacks with the practical side. The bubble space capsule shell is cute, eye-catching and protects your cat from the elements. The mesh sides offer ventilation, and the carrier has an expandable option (which I love.)
This product also offers the additional dome/window coverings so you could change things up for your kitty (or if you want a flatter window.) They're available in a flower or honeycomb design. If you're looking for a crazy cute bubble design that can also expand to make additional room for your kitty, this design by Huo Zao would be a great option.
Con: No storage departments. This style has less viewing areas for cats to look around.
To Summarize..
When choosing which cat carrier to purchase, you'll have to decide which features are most important to you, and which style you think might work best with your cat's personality.
Think about these things before making your final decision:
Do I want a hard plastic covering or a fabric mesh style?
Does the climate I live factor in?
Will extra storage compartments be important?
How much does my cat weigh?
Do I want my cat to be slightly more enclosed, or have have maximum viewing capability?
Will I be taking the backpack on long excursions?
Do I want a carrier backpack that folds out to be expandable?
How important is the appearance and color of the backpack to me?
Once you can answer those questions you will be well on your way to selecting the perfect carrier backpack for you and your little fur baby. Peace, love, and cats everyone!