This post may contain affiliate links. This means I may receive a small commission if products are purchased through them. All opinions are honest and remain my own.
I have a new couch coming, a really good one…and I'm terrified. Glancing over at the shredded remains of my current couch's arms, I know I have to take action to protect the next one from my cats' eager claws. It can certainly be done. It just takes a little planning.
The best way to keep cats from scratching your furniture is to provide them with alternative places to scratch. There are a variety of products and materials that can easily achieve this, but for this article I'm going to concentrate on the best cardboard cat scratchers.
Why do cats like to scratch cardboard?
Cats need to scratch. It's totally normal and healthy behavior. It allows them to:
Shed dead nail husks
Stretch their muscles
Spread their scent/mark their territory (yes, cats have scent glands in their paws too!)
Cardboard is especially good material for scratching for a few reasons. First, it's inexpensive and easy to replace when it inevitably gets worn out. It also makes a great tearing sound when cats rip at it, which is something they love. Cats prefer to make a little noise when they engage in scratching behavior. It's also easy to fill corrugated cardboard with catnip, which attracts cats to the scratcher and away from your furniture.
How do I know which scratchers are right for my cat?
Since these cardboard scratchers come in so many different designs and have a variety of price points, it can be confusing figuring out which one to get. Consider these questions when deciding on your purchase:
How big is my cat? Some breeds of cats are much larger than others, just as some cardboard scratchers are much larger than others. If your cat is on the larger side, I'd choose scratchers that are on the larger side as well so that they can get a full stretch.
Does my cat like to scratch horizontally, vertically or at an angle? Have you noticed how some cats like to scratch upwards on furniture, and others like to scratch lower, on carpet? They make cardboard scratchers that are designed for all of these behaviors, so consider which your cat tends to prefer. And of course many cats like to do all three, so having multiple types of scratchers is always good idea.
Also consider:
How large is my cat's living space? Cats like to leave their scent and be able to scratch in multiple places, not just one isolated place in the house. So if you have a large living space, it stands to reason that you should have multiple areas where scratching is allowed. If you have a tiny apartment, you may not need as many scratching products, although it's probably still a good idea to have more than one.
So, in light of all this, I've studied the cardboard cat scratchers that are currently available on the market and selected what I believe to be the best. Each one offers something different.
The Best Cardboard Cat Scratchers of 2020
Highlights
Unique and appealing design
Long lasting, double-sided and replaceable floor
Larger than other scratchers
For a horizontal floor cardboard scratcher, the Scratch Lounge seems to contain magical properties and has the best ratings of any that I've been able to find.
It has a unique, three-sided design that attracts cats and seems to satisfy their urge to nest. Aside from the appealing shape of the Scratch Lounge, it's also much larger than other scratchers and can accommodate even the chunkiest of furballs.
Check it out here, on Chewy.
The floor of the lounge is densely packed, double-sided, and replaceable so the Scratch Lounge lasts much longer than other, less expensive brands.
Yes, $34 is a lot to spend on a cardboard scratcher, but the reviews speak for themselves. Customers insist that it is worth the money because of how well it holds up and how much their cats love and use it.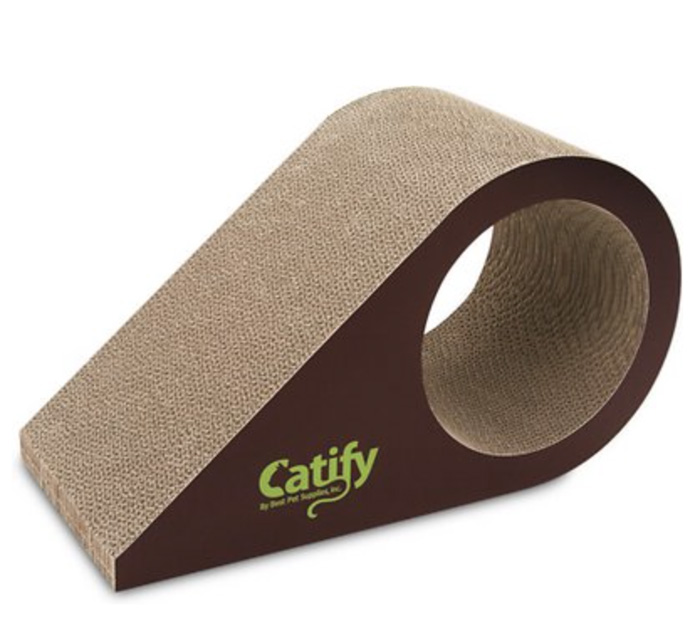 Highlights
Multiple ways for cats to scratch
Center hole encourages play
Doubles as a ramp
I like this scratcher both for the quality of the construction, and for the versatility of the design. The teardrop shape allows cats to scratch it from multiple directions, as well as to use to center hole for playing or lounging.
The best part about this scratcher is that it doubles as a ramp, so it could be strategically placed to help senior kitties climb up onto other surfaces, or provide an angled surface for energetic kittens to run up and down.
This scratcher is a good choice for a multi-cat home or for picky cats, because it provides a variety of ways to use it. Chances are, something about it will appeal to most any feline.
The Catify Droplet scratcher is available here, on Chewy.
Highlights
Large size allows for full stretch
Curved design allows cats to rest more comfortably
Interactive
3 color options
This scratcher is a bit more pricy than some of the others, but it really is the ultimate. Featured on Animal Planet's My Cat From Hell, this lounge's large, curved design is a straight up cat magnet. Check it out here, on Amazon.
The large size of this model allows cats to scratch more easily, getting in a full stretch. The sloping shape allows cats to rest more comfortably when they choose to use it as a place to chill or take a nap.
It's also interactive, with two places in the center where cats could burrow in or crawl through. As a bonus, the scratcher is modern looking and comes in three nice color options.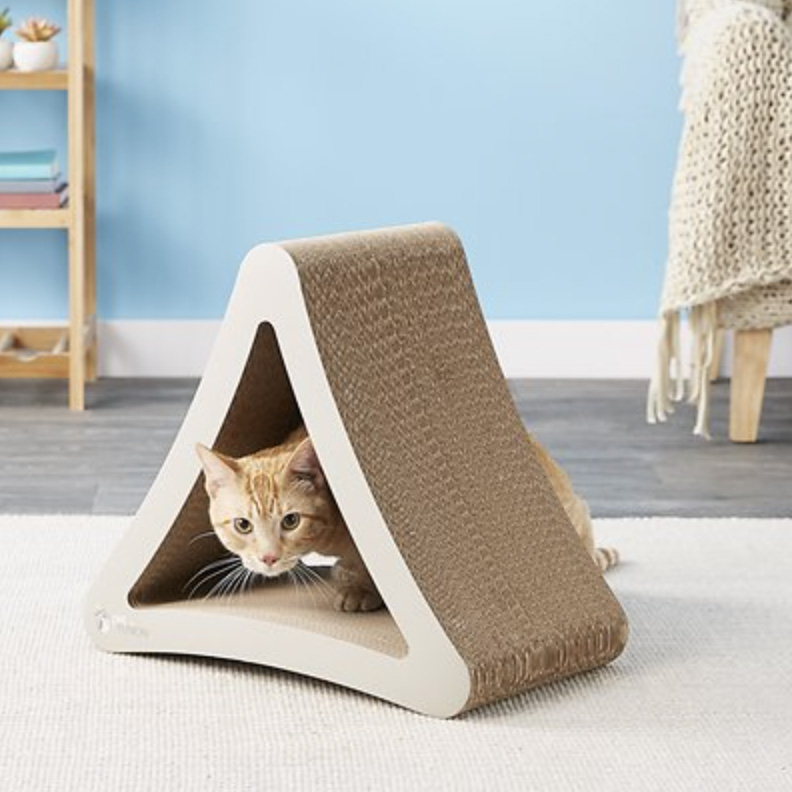 Highlights
Stylish design
Can be used vertically or horizontally
Superior construction
Fits nicely anywhere around your home
PetFusion is one of the front runners when it comes to designing the best scratchers that cats will use and love the most.
Like the Ultimate Lounge, this 3-Sided Vertical Scratching Post is well constructed. PetFusion glues their products together piece by piece, which makes them more durable than other pre-glued versions. The cardboard is corrugated and recycled, and glued with non-toxic corn starch glue that is safe for cats to chew on..
This scratcher can be set up vertically, as pictured, or turned onto its side if your cat prefers to use it that way. The cubby hole in the center encourages play and exploration.
I also like that this scratcher has a lot of surface area but isn't overly large, so it would fit easily into any living space. Find this stylish cat scratcher here, on Chewy.
Highlights
Low cost and great value
Double sided and long lasting
Larger than other brands
This 3 pack of cardboard floor scratchers is a great value. Simple and straightforward, these scratchers get the job done at a price you can't beat. I chose Kitty City over other brands for a few reasons.
First, they have far and away the best ratings, which is something that I always look for and I feel is important. They are also double sided, so when you purchase a pack of three, it's really like you're getting six scratchers!
The bottom side comes covered in a decorative material but perforated for easy removal. One reviewer noted, "I like to remove the paper frame when I use the bottom side to maximize the scratching surface."
Finally, the Kitty City floor scratchers are a lot larger than most others of this type. They measure 18″ x 10″ x 1.5″, which is a nice surface area for kitty to scratch and lasts a long time.
At just over seven bucks a piece, you cannot go wrong by picking these up. Available here, on Amazon.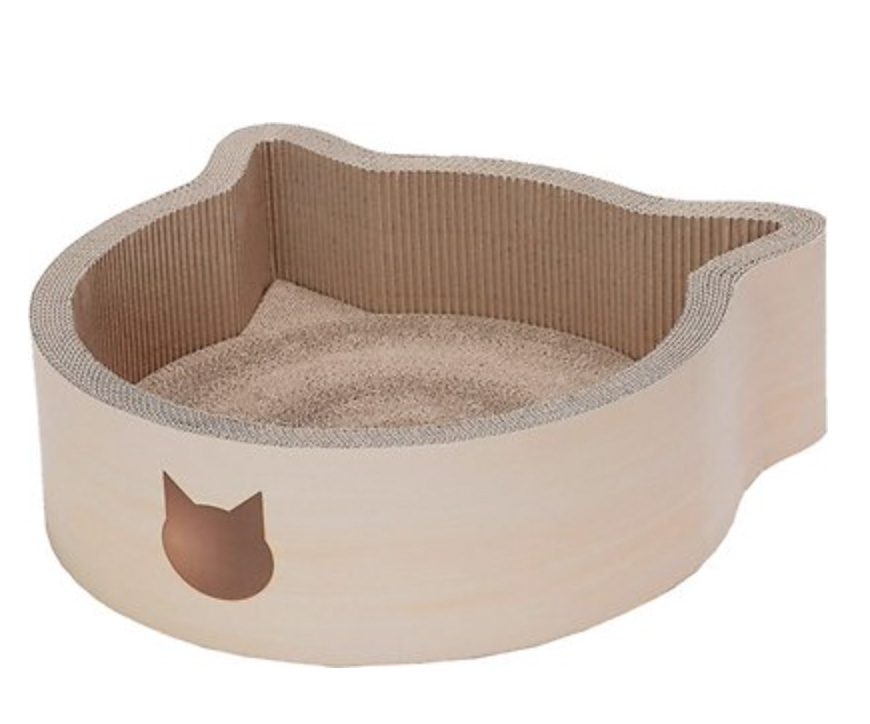 Highlights
Perfect design for head scratching/massaging
Doubles as a bed and lounge area
Cute modern style
Available here, on Chewy, this scratcher/bed combo is a haven for cats! It's 6 inches deep, which allows your cat to snuggle down inside for a nice nap.
The circular shape is designed to provide satisfying nesting space for cats, and the sides are lined with corrugated cardboard that they can use to spin around and get a good head massage.
The cute, modern shape and neutral outer material make this a nice addition to any living space.
The only thing I don't love about this scratcher is that there are no replacement pads for the bottom, but reviewers say that it is sturdy and lasts longer than other scratchers. The Necoichi Cat Head Scratcher Bed could very well last years even with no replacement pads, especially if you have other types of scratchers around the house.
Provides private area for cats to rest
Roomy design
Cute and fun, windows cutouts encourage play
This cat house is different from other scratcher models in that it's more enclosed and therefore acts as kind of a cat playhouse as well. If you're interested in getting your cat some kind of cardboard house or "castle" (some of the large models get really elaborate) but aren't sure how much you should invest, this could be a good place to start.
I think for just $15, this cat cottage is a great value. It's roomy enough for large cats, sized 19.5″ x 14″ x 11″. The cutout windows encourage play with other cats, and the decorative exterior is ridiculously cute. The scratch pad is the floor inside the house, and catnip is included to add extra interest. Assembly is required for this product.
Check it out here, on Amazon.
Highlights
Scratcher and toy in one
Lasts a lifetime
Provides exercise and cats love it
In my opinion, the Bergan Turboscratcher is the best cardboard scratcher/toy combo. I have two cats and they use it ALL the time both for playing and for scratching.
Both the ball and the cardboard scratching inserts are replaceable/upgradeable so this toy lasts a lifetime. It's great for exercise and stimulation in single or multi-cat homes.
Replacement scratcher pads can be purchased from the Bergan store, but the last time I replaced the pads I bought this less expensive 4 pack and they are working out just fine for me. The cardboard is nicely packed and high quality.
Find the Bergan Turboscratcher here.
Highlights
Offers a vertical scratching option
Nice and tall
Doubles as a place to lounge
I included the Pawmosa Vertical Scratcher for its unique vertical design and abundance of positive reviews. I also love that's it's nearly 22″ tall; plenty tall enough for large cats to get a good full stretch in. Many scratchers seem to limit their length to around 18″ so finding one that is 20″ + is great.
The L shape of this scratcher allows it to be used in multiple ways, both for vertical and horizontal scratching and also for lounging. It can be placed against a wall for extra support. The "wood" look of the exterior covering is a nice added bonus.
The thing about this scratcher is that is does require you to put it together yourself, so its durability may depend on how successful you are at the construction process. One reviewer said that she loves the scratcher but decided to reinforce the seams along the back with packing tape.
Highlights
Solid design, can be turned different ways
High quality, lasts longer than other brands
Center holes encourage curiosity and play
I love how solid this GoPets Wedge Cat Scratcher is. Perfect for angled scratching, this model is covered with premium cardboard on three sides for maximum scratching possibilities and positions. At 17″ x 15.5″ x 8.5″ this scratcher is a nice size – not too big or too small, and can easily fit into tight spaces.
One reviewer said she purchased two and placed them at either ends of her couch so that her cats would stop clawing the arms. Love that idea!
The part that sets this scratcher aside from other ramp/wedge style scratchers is the thoughtfully placed center holes. Cats have a natural curiosity for little nooks like these and so this wedge scratcher is great for encouraging play and mental stimulation.
Find the GoPets Wedge Cat Scratcher here, on Amazon.
So these are my top 10 picks for the best cardboard cat scratchers of 2020. I researched them based on durability, quality, ingenuity of design, and overall appeal to your furry friends. If you didn't find quite the right scratcher for you here, check out the other options available here, on Chewy.
Also, if you enjoyed this list and would like to check out some of our other product recommendations, click here.
Thanks for reading!