This post may contain affiliate links. This means I may receive a small commission if products are purchased through them. All opinions are honest and remain my own.
Most of us only have so much room to work with when it comes to filling our home with cat furniture and accessories. When space is limited, you want to make sure the pieces you select are going to be the right fit. We've done the research, and assembled a comprehensive list of the best space saving cat condos to help make your life easier.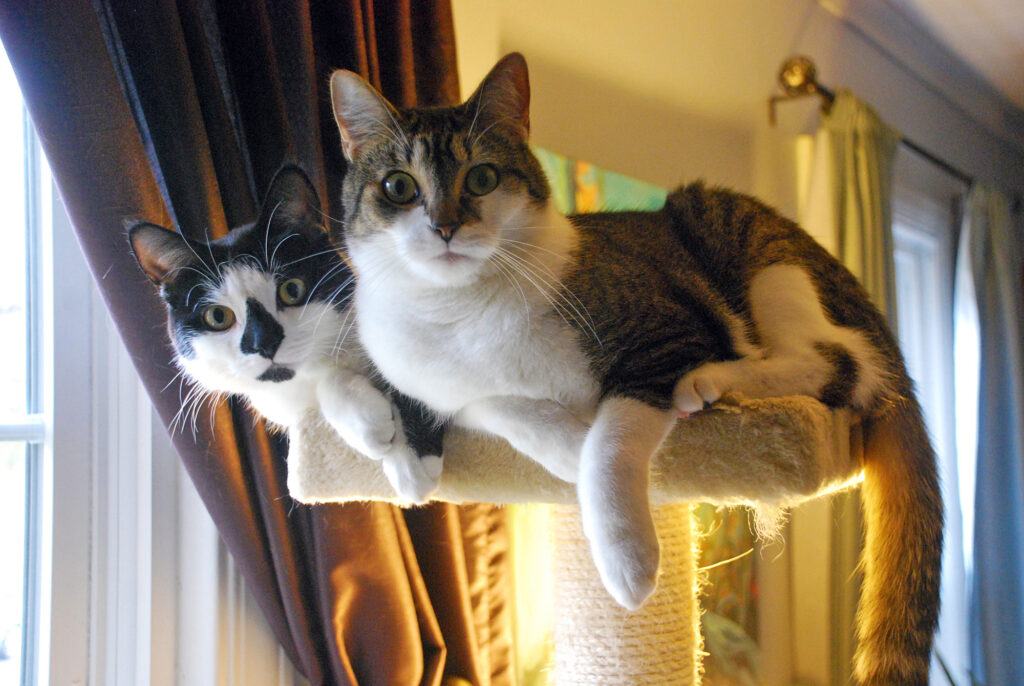 What is the difference between a cat condo and a cat tree?
These two terms are often used interchangeably when it comes to describing elevated cat furniture. Is there a difference? Or are they one in the same?
A cat tree is the broader term. It's a structure that is designed for cats to play on, scratch, relax, and sleep. Terms like cat condo and cat tower are often used to describe a cat tree, but they are all essentially the same thing. The term cat condo might be used when the structure has built in enclosures.
That's how I feel about it, anyway. I usually find myself saying "cat tower" just because I'm used to it, so it's really just a personal preference for what term you use. Some structures, like the one pictured below, are more like enclosed bed structures. I tend to refer to those ones as cat condos because they're more like a house than an open platformed tower.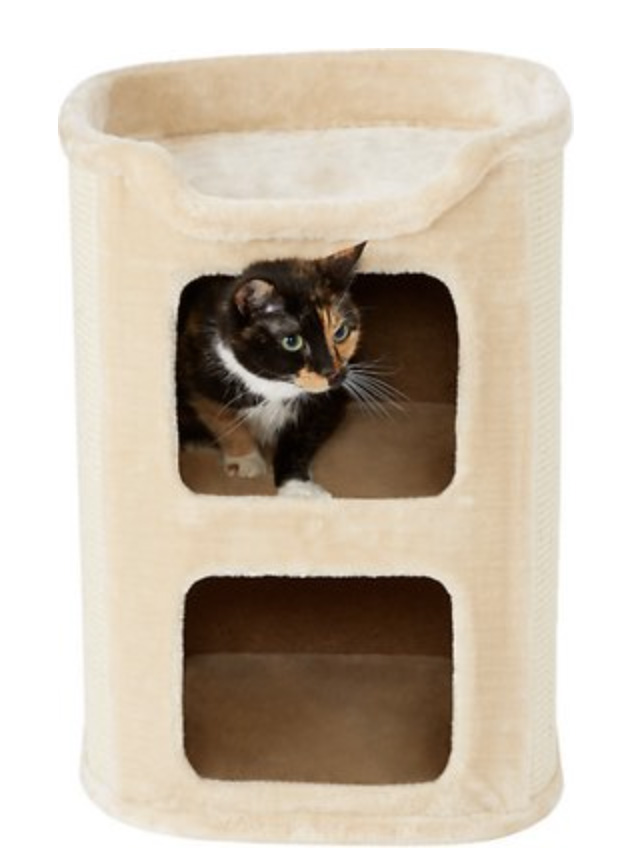 Of course many structures have both "tower" and "condo" elements so it can be a little confusing. The bottom line is that the name really doesn't matter, but finding the right condo/tree for your kitty does!
The Best Space Saving Cat Condos
Armarkat is a great brand when it comes to cat furniture. I've had the same Armarkat tower for about ten years now and it's still going strong. They're a little on the higher side price wise, but well within the normal range and totally worth every penny.
This petite two story cat condo has plenty of room for three cats to sleep on at the same time. The side is covered with sisal material for cats to scratch, and there's even a built in toy. For such a small condo, this one offers a lot. Read more about it here, on Chewy.
Although this is a small cat condo, it's very solid and stable. I like that the condo on the second tier has multiple openings so cats have more options for how to maneuver around.
The bed on top is soft and spacious, large enough for two cats to share. This cat condo by PAWBEE will satisfy your cat's natural desire to climb and nest without taking up much space.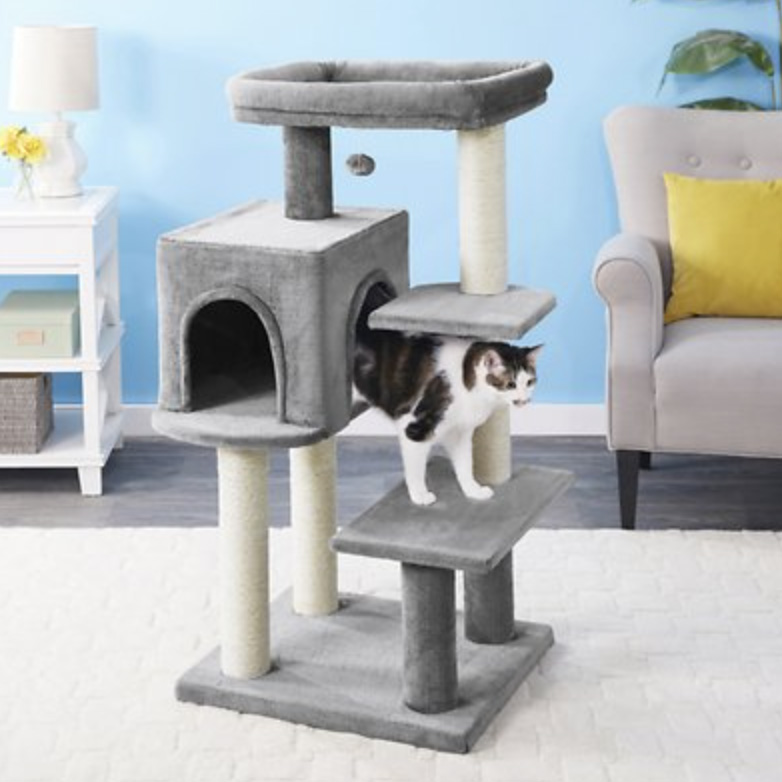 This condo is a bit on the larger side but it is still petite compared to how large some models get. I like that it doesn't have any shelves or baskets that stick out the sides, so it could fit nicely into a corner.
The Frisco cat tree and condo offers every element of a good tower – places to curl up and nap, sisal covered posts for scratching, enough height that they can look out over their territory, and multiple tiers for playing and exercise. It even comes with w poof ball toy!
Also, at 48″ tall, it's still short enough that shelves or pictures could go on the wall above it. Find this condo here, on Chewy.
Out of all the single story cat condo cubes, this is one of my favorite. What sets this one apart is the cutouts in the side designed to promote play. Anytime a piece of cat furniture incorporates multiple functions into a streamlined design, it's a good thing.
This is also a nice looking little condo and comes in four color options. It's collapsible, yet sturdy, and at 15.5″ x 15.5″ x 16.5″ it's large enough to accommodate any size cat. Find it here, on Amazon.
This stackable cat habitat takes up only a small amount of space for being comfortably able to sleep up to four or five cats. Reviewers say the cushions are incredibly soft and setup is a breeze. For a multi-cat household with limited space, this cat condo is sure to fit the bill.
Check it out here, on Amazon.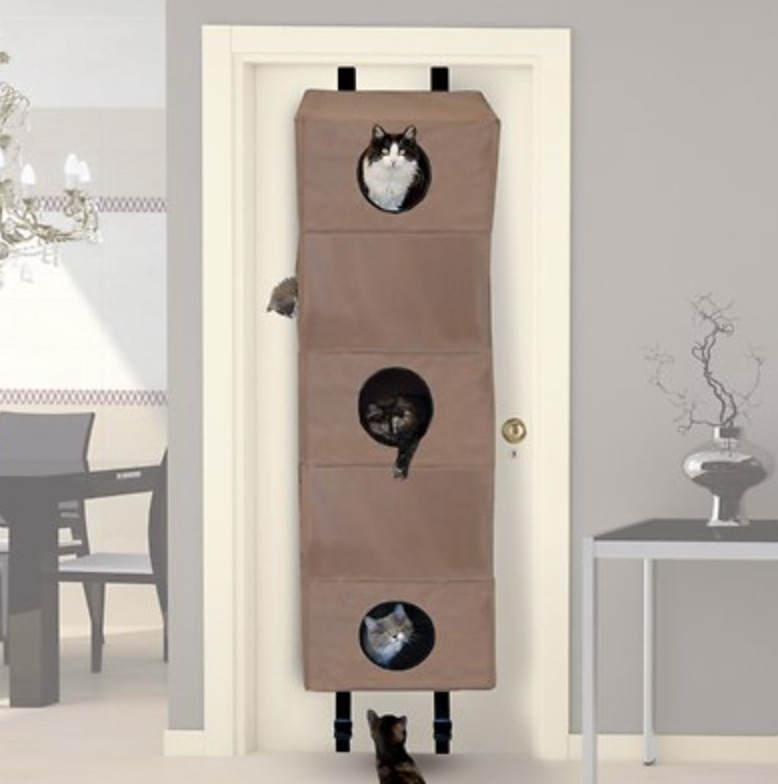 If floor space is limited, you could try strapping a cat condo to a door! This innovative, space saving design by K&H Pet Products has been getting a lot of positive reviews from customers and cats alike. It may not be for every living space, but it's nice to know that there are options like this out there.
Read more about this unique cat condo here.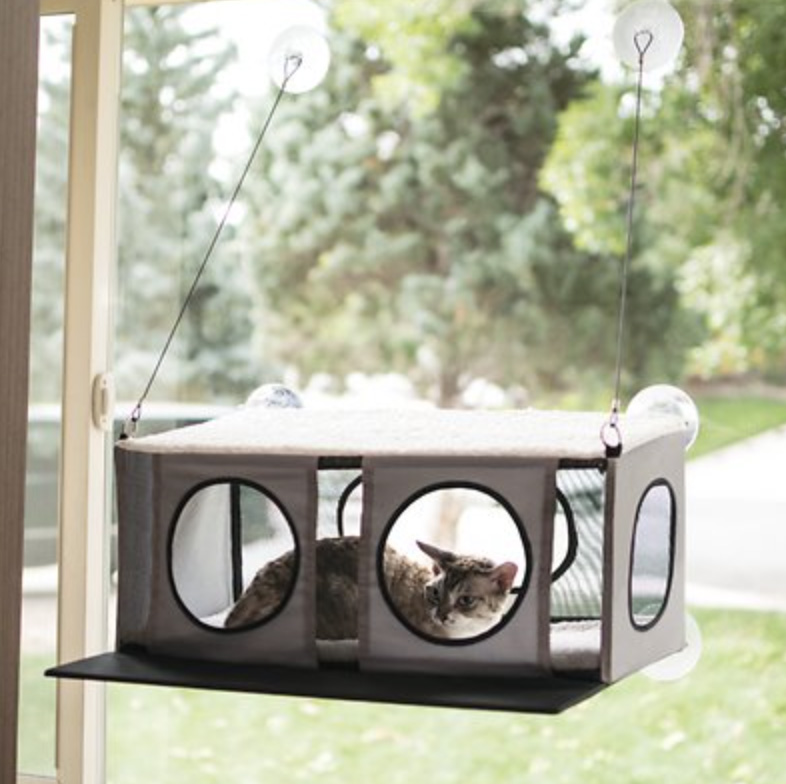 Another way to save space when selecting a condo for your kitty is to choose a window perch. This version by K&H is unique in that it's enclosed and therefore offers your kitty a view to the outside world from the safety of their own little house.
This perch uses a suction cup mounting system, and features a built in ledge so that cats can easily get in and out. See what customers are saying about this penthouse window perch here, on Chewy.
Combining gorgeous modern woodworking with a space saving place for my cats to hang out? Yes please! I have seen pictures of these type of mounted cat wall beds and I am in love. I would definitely line the bottom with some fleece for my kitties to be nice and cozy.
These shelves do require assembly. Each one measures 16.5″ x 14″ and are 9 inches deep. Read more here, to find out if these handcrafted shelves could be right for you.
This wall mounted cat condo and scratching post combo is a space saver for sure. I think these would work best in pairs, so cats could climb up the scratching post from one to another. By purchasing two or three of these, you could get really creative with the placement and make a fun little condo wall for your cats.
Find out more about this product here.
For a more modern and elegant option, we love this compact geometric cat condo by Vesper. Sleek and stylish, this condo could almost pass for an end table!
What's nice about this product is that it comes in two sizes so you can choose the size that best works for you and your cat. Both sizes feature a circular cutout opening, a scratching post, and multiple cushioned levels that your cat can hang out on. Click here to check out both versions of this gorgeous cat condo.
These are our top ten picks for the best space saving cat condos currently on the market. If none of these quite fit what you were looking for, check out the rest of Chewy's cat condo options.
And if you enjoyed this list, take a peek at our other carefully curated cat product lists here. Thanks for reading!