This post may contain affiliate links. This means I may receive a small commission if products are purchased through them. All opinions are honest and remain my own.
If you have a cat that has an issue with eating too fast and then throwing up, you know the struggle is real. Cleaning up mess after mess becomes tiring, and the wasted food dollars are beyond frustrating. But don't despair because there is a solution!
In this article we will explore slow feeding cat bowls, also called "maze bowls" or "puzzle feeders." We'll look at how they work, if they work, and what the best options are.
Why do some cats eat too fast?
There isn't one clear cut answer as to why some cats eat too quickly. It could be one of many reasons. Some of these reasons might include:
Stress over food bowl competition
Over-excitement
Behavioral reasons such as loneliness or boredom
Cats in the wild were meant to eat many small meals a day, not out of a bowl
Think about how cats evolved. They would normally spend their waking hours hunting for food – usually small amounts at a time. When house cats today are presented with their bowls of food, some simply can't resist the instinct to chow down while the getting's good.
Of my two cats, Bear struggles with regurgitating his food after eating, while Chickadee is fine and eats at a normal pace. I can't know for sure why this is, but I've speculated that it could have something to do with the fact that Bear was found as a stray, while Chickadee was fed indoors her whole life before getting adopted.
In any case, I've found ways to help Bear slow down his eating and, if I'm careful, he is able to go many weeks at a time without incident.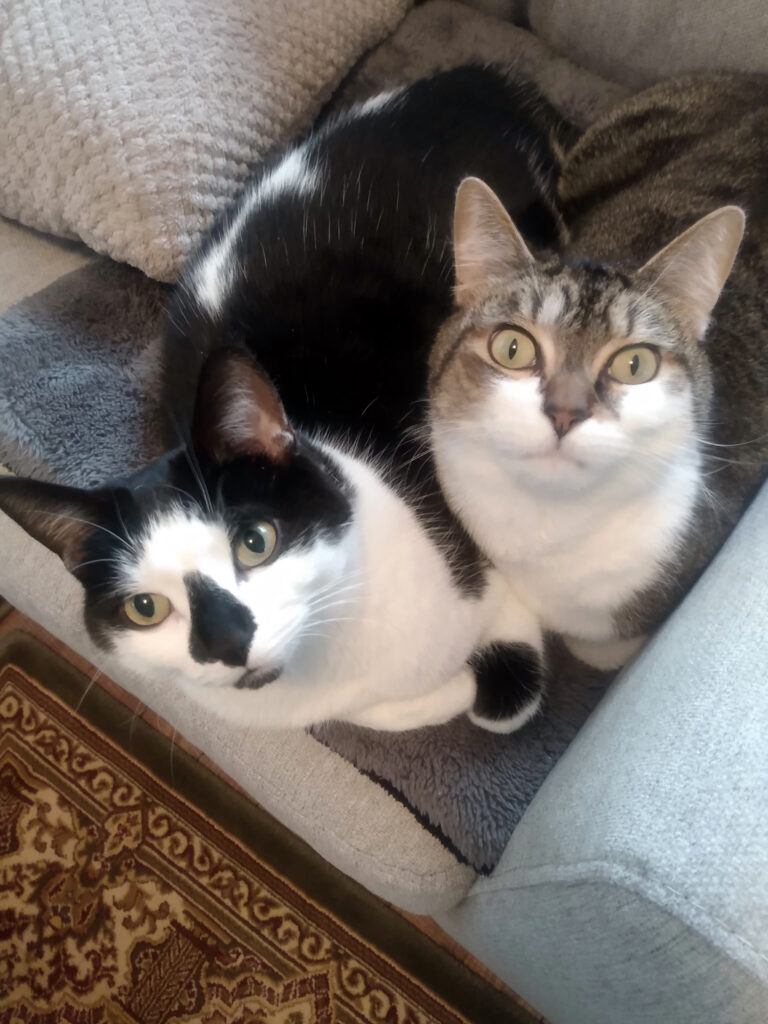 How to slow down your cat's eating
---
Try Switching to Wet Food
When approaching this problem, the first step is to watch your cat and figure out what it is he is throwing up. If he's primarily vomiting dry foot immediately after eating, try switching him to a diet that consists more of wet food.
Cats are more prone to throwing up or regurgitating dry food because once inside the digestive tract, dry food pellets begin to expand, absorbing the liquid inside your cat's stomach. If a cat's stomach wall expands too quickly, a message is sent to the brain initiating the gag reflex.
Wet food can help prevent this, especially if fed in smaller portions. It may also help the mush the wet food up with a spoon and add a little bit of water so your cat has to slowly lap it up, rather than eat it in big chunks.
Slow Feeding Cat Bowls
It can get really expensive to feed your cat exclusively wet food, so I have found that keeping a reasonable amount of healthy dry food out in a maze feeder (see picture below) and sticking to a regular feeding time for wet food the other part of the day is a good balance for my cats.
There are several models of slow feeding cat bowls on the market, and we'll take a look at the best options in just a minute.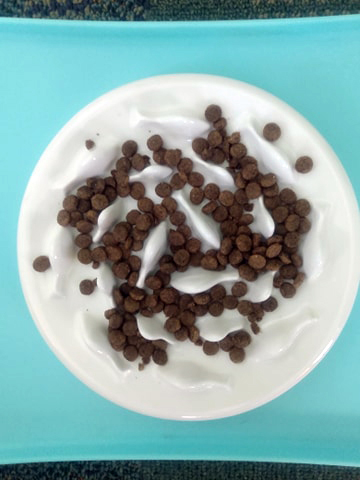 When should a vomiting cat be taken to the vet?
Something to clarify is the difference between vomiting and regurgitation in cats, as they are actually quite different.
Regurgitation is a passive process where a cat lowers her head, and the food basically just comes back out backwards. The contents are often undigested and may look to be in a tube shape. The cat's abdominal muscles don't contract, and it's typically a quiet process that occurs quickly.
Vomiting is an active process during which the cat's abdominal muscles contract, and the stomach contents are forced back up. It is usually louder than regurgitation; you'll be able to hear your cat retching. Vomiting sometimes comes with yellowish stomach bile, and may not contain any undigested food.
Although vomiting and regurgitation are common in cats, it's certainly not a good thing and too much of it can be a sign of a serious health problem. So how do you know when it's time to take kitty to the vet?
According to Dr William Folger on the Iams website, "A general guideline is that if the cat is vomiting one to three times a month, we consider this normal."
So, if you have tried changing your cat's diet and/or slow feeding methods, and they are still throwing up more than 1 to 3 times a month, a visit to the vet would definitely be warranted.
Do slow feed cat bowls work?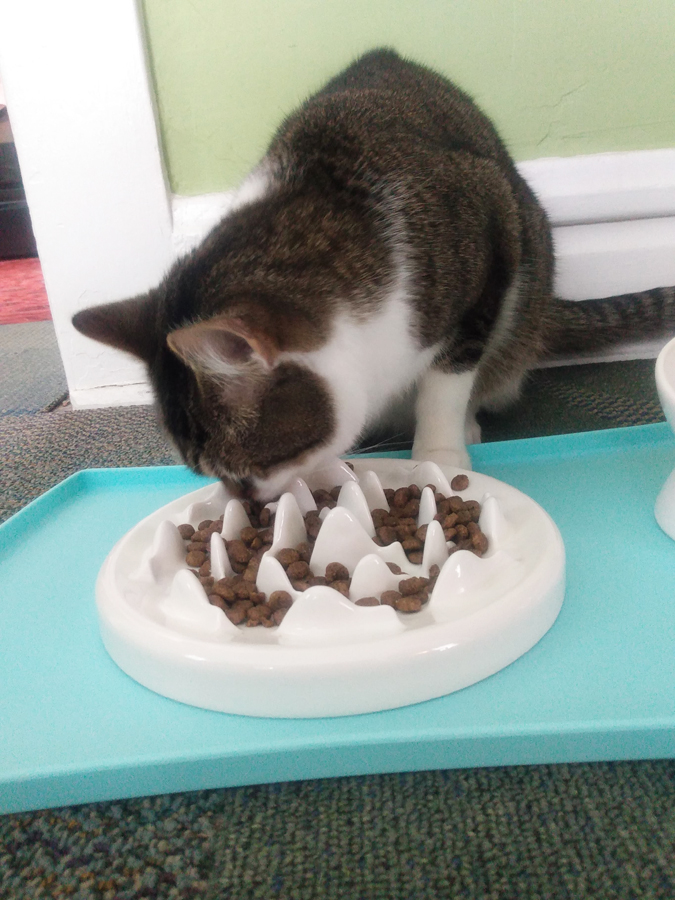 Slow feed cat bowls come in a variety of shapes and designs that are intended to make the food harder to scarf down all at once. By introducing obstacles into the food dish, cat's are forced to work around them, which takes more time.
As an added benefit, using a slow feeder bowl for your cat also provides them with more mental stimulation during dinnertime, which can help with boredom (yes, cats get bored too!)
While slow feeders may not work for every cat, there has been an enormous amount of success with them as a whole. I can also say from personal experience that they worked for my cat.
The Best Slow Feeding Cat Bowls
---
This lovely ceramic dish is a favorite both with customers and here at Happy Cat Corner. This is the dish that has helped my cat control his "scarf and barf" tendencies.
Featuring a cute circling fish design, this 8.7″ ceramic dish has a nice weight to it and is easy to wipe clean. The large size also encourages the spreading out of food, so cats can't get a big mouthful all at once.
Find the Lorde slow feeder bowl here, on Amazon.
A great non-ceramic option is this puzzle feeder by NOYAL. To prevent the bowl getting knocked over, it's designed with a widened base, and comes with four nonskid pads that can be glued to the bottom.
This 6.5″ bowl comes in seven cute colors, and features a swirling flower pattern specially designed to slow down your cat's eating.
It's also very affordable! Check the latest price here.
We also like this slow pet feeder a great deal. It uses a different type of design to spread the kibble out into little sections, which is a great way to keep cats from gulping down their food too quickly.
Made out of BPA free plastic, the smaller size (recommended for cats) measures 12.5″ x 8.2″ and is 2″ tall. This bowl comes in larger sizes and works well as a slow feeder for dogs as well as cats.
Find this unique bowl here.
Another great slow feeding option is the LickiMat. This one is a bit different than the others. Its versatile design works for dry or wet food, treats, and spreadable healthy snacks like yogurt or pumpkin.
The LickiMat is especially good for interactive feeding – cats can have fun getting their food out of every little nook and cranny. This extends meal time and allows for healthier digestion. Since getting their food becomes a longer and more stimulating experience, this feeder mat can also help with stress and anxiety.
The extra cool part about the LickiMat is that while cats are eating, their tongue scrapes along the grooves and ridges of the mat. This is beneficial to their dental health, as it cleans their tongue and helps remove odor-causing bacteria.
This unique feeding mat comes in three colors, and offers a choice of two different pattern options. Find it here, on Amazon.
Finally we come to the Catit Senses Interactive Digger, which is a feeder and cat toy in one! This feeder encourages cat's natural instinct to dig and paw in small spaces. Put a small amount of dry food or a few treats into the tubes and watch your cat go on the hunt!
This feeder comes with a rubber attachment around the base to secure the bowl and keep it from tipping. The whole thing comes apart for easy cleaning, and is made out of safe, BPA free materials.
One reviewer said of this interactive feeding toy, "I've had my eye on this for a while, and I'm so glad I finally got it. It is well made, and even though it is a simple concept, it is great enrichment for my kitty. I can see how much he enjoys the stimulation of "digging out" and "catching" his treats like prey, and it's rather entertaining to watch."
See what other reviewers are saying about this product here.
DIY Slow Cat Feeders
Another option is to use things you already have at home to create your own slow feeder bowl. Check out this list of cost-saving ideas:
Try placing something inside your cat's food bowl, such as a golf ball (something they can't choke on or easily knock out.) They will have to work around it to get their food, which may help to slow down their eating
Use a mini muffin tin or an ice cube tray and place a small amount of food into each compartment
Cut a few small holes in a plastic bottle, large enough for pieces of kibble to fall through. Fill it part way with dry food, screw the cap back on, and watch your cat have fun
Glue an inexpensive drinking glass into the middle of your cat's food bowl. This will create a moat for the food to fall down into
Take a selection of medium to short juice glasses and glue securely into a shoebox. Fill each one with a bit of kibble and let your cat use her natural pawing instincts to get the food out
The Bottom Line
While every cat is different and slow feeders may not work perfectly for each one, the overwhelming majority of reviewers say they have experienced success with them. I can also verify from personal experience that a slow feed bowl helped my cat to stop gulping down his food too quickly and has kept him from throwing up after mealtime.