This post may contain affiliate links. This means I may receive a small commission if products are purchased through them. All opinions are honest and remain my own.
Something I've always wondered about is whether or not it's safe to feed your cats raw chicken other raw meats. I've seen a friend feed raw chicken to her cats, but never had the nerve to try it myself. Is it more nutritious because that's how cats have historically fed in the wild? Is it unsafe because of potential foodborne pathogens? I set out on a mission to find out.
The first thing I noticed is that there is a lot of conflicting information out there. In fact, the subject seems to be debated quite heavily! Some websites say that it is not safe to feed your cats raw chicken and other meats, while others advocate a balanced raw diet. Which is correct?
So, is it really safe to feed house cats raw chicken?
What I eventually concluded is that even though cats can usually digest raw foods better than humans, there are still many risks involved. Unless you consult with a veterinarian and have a complete understanding of how to feed your cat raw meat in a safe and healthy manner as possible, it is probably best to simply not do it.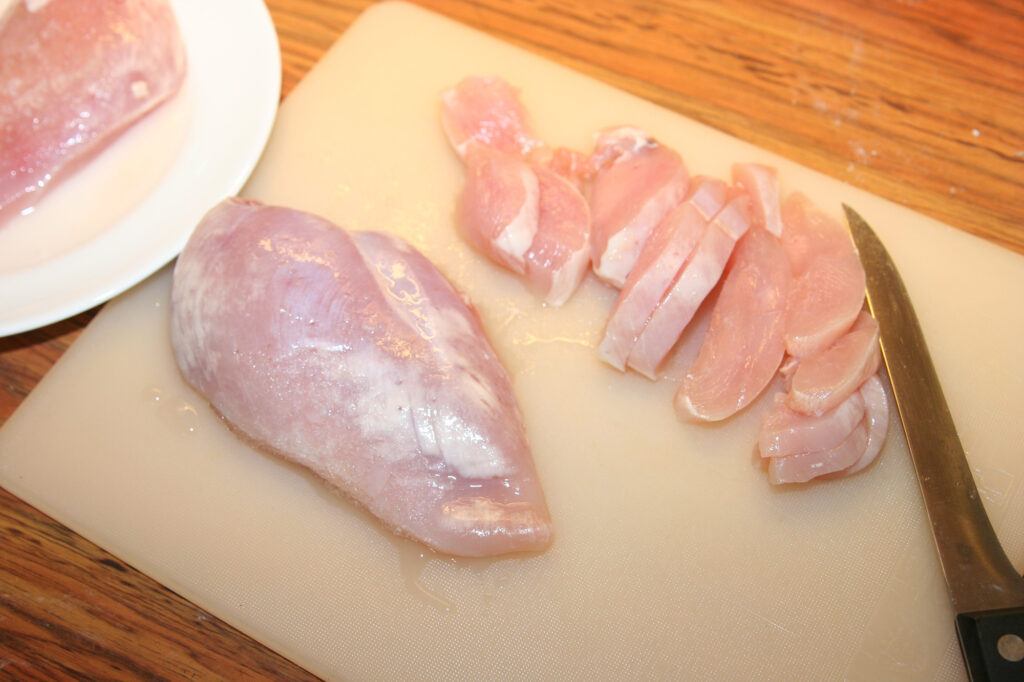 What are the risks involved with feeding raw meat to your cats?
Although there are certainly benefits to providing your feline companions with the natural uncooked meat that they would traditionally have hunted for in the wild, I found that personally I couldn't look past all of the risks that come along with it.
Dangerous bacteria
Raw meat may contain disease-causing bacteria such as Salmonella and E. coli. While cats do have a shorter digestive time frame than humans, which would allow the bacteria to pass through their bodies before causing illness, it is not a guarantee. Cats can get sick too, and I'm not willing to take that risk when my cats are perfectly happy and healthy eating cooked food.
Cross Contamination
Perhaps a bigger danger to feeding your cats raw meat is the danger of cross-contamination to yourself and other human members of your household. We have a lot of exposure to our furbabies, including contact around the face area, cats walking on countertops, and cleaning of waste. Additionally, the preparation and storage of raw food in your kitchen always poses a threat.
There is a very informative article on cross-contamination here: https://time.com/5101066/raw-meat-pet-dangers/
Bones
Another safety concern in the raw diet debate is animal bones. Ingestion of small bones can lead to choking or gastrointestinal problems in cats. Microwaving or cooking the bones is especially dangerous because it can cause them to splinter and possibly puncture your kitty's intestinal tract or cause oral injuries.
What are the benefits of raw meat for cats?
I want to emphasize that I found many sources out there promoting the health benefits of a feline raw food diet. They assert that the rewards outweigh the risks and not the other way around. I simply decided for myself and for my cats that feeding them uncooked food is something I would prefer to avoid.
The nutritional advantage of raw meat is significant because the heating process does degrade some of the vitamins and minerals found in natural, uncooked meat.
Some of the health benefits of raw meat for cats may include:
Reduced odor around the litter box area
Healthier coat and skin
Weight control
Increased energy
Improved digestion
These benefits are nothing to sneeze at, and if you decide that you are interested in a raw food diet for your cat, I would recommend doing plenty of research and discussing it with your veterinarian. Each cat and household is different so what is best for individual situations will vary. If you decide you're interested in a raw food diet for your cat, there are many resources out there to help you learn how to practice it in a safe, balanced, and healthy way.
Raw Food Alternatives
There are an increasing interest and popularity in feeding cats a raw-based diet, but apart from the health dangers, there is another drawback. It takes a lot of time, energy, knowledge, and financial resources to successfully pull it off. Cats have specific dietary requirements and can't survive on only the cuts of meat we humans buy for ourselves at the grocery store. Therefore feeding raw meat to your cat would require specific recipes that are tailored to their individual needs.
This is not a realistic option for many people, but that doesn't mean our cats can't have anything other than traditional dry and canned food. It's currently a small percentage of the market, but some companies are beginning to offer things like:
air-dried foods
freeze-dried foods
dehydrated foods
These options offer a much more convenient way of providing your cats with excellent nutrition. The drying methods remove potentially harmful bacteria from the meat without losing the nutrients like in a heated cooking process. Sounds to me like a win-win!
Some of the companies offering these products are Ziwi, The Honest Kitchen, and The Real Meat Company. Their products can be fed as is, or in some cases mixed with water for improved hydration.
The main drawback to these types of air-dried, freeze-dried, or dehydrated products is that they are quite a bit more costly than the standard bulk Kibble found in grocery stores. However, I want my kitties to be as healthy as possible and to have as good a quality of life that I can possibly offer so I personally feel that the extra cost is worth it. You could start by introducing small amount of these foods into their diet and see how they take to them. And, as always, check with your vet before any major changes to your cat's diet.
Every cat is different
I hope this post helped you to sort through some of the information out there regarding raw cat food. On the one hand, it's great that we have access to SO many resources via the web these days, but on the other hand, it can be completely overwhelming and just lead to more confusion.
I think it's important to remember that every cat is different, and what is right for one may not be right for another. In my case, I decided that I'm just not comfortable with the risks involved in a raw food diet.