This post may contain affiliate links. This means I may receive a small commission if products are purchased through them. All opinions are honest and remain my own.
There are certain herbs and fresh vegetables to watch out for when it comes to the safety of your cat, but is basil on the list? Are you wondering is basil toxic to cats? You can rest assured most plants are actually not harmful to cats in any way, although there are some you need to watch out for.
In short, basil is non-toxic to cats (and dogs) according to the ASPCA. It doesn't matter if it's fresh, cooked, or dried – consuming this shouldn't harm a cat in any way. Basil should not be confused as being the same as St. John's Wart, which IS toxic to cats.
So while it's not going to really affect your cat if they chow down on this stuff, if you have a problem with your cats ruining all your fresh basil, try growing them some cat grass instead and putting it in an easily accessible area. This should distract them enough they'll no longer be interested.
Are cats attracted to basil?
Cats are naturally curious creatures, and they are attracted to plants. Some felines may initially be attracted to the sight and smell of basil, and try to taste it. It's very common for them to nibble on grasses and plants in general, and there are many theories behind that.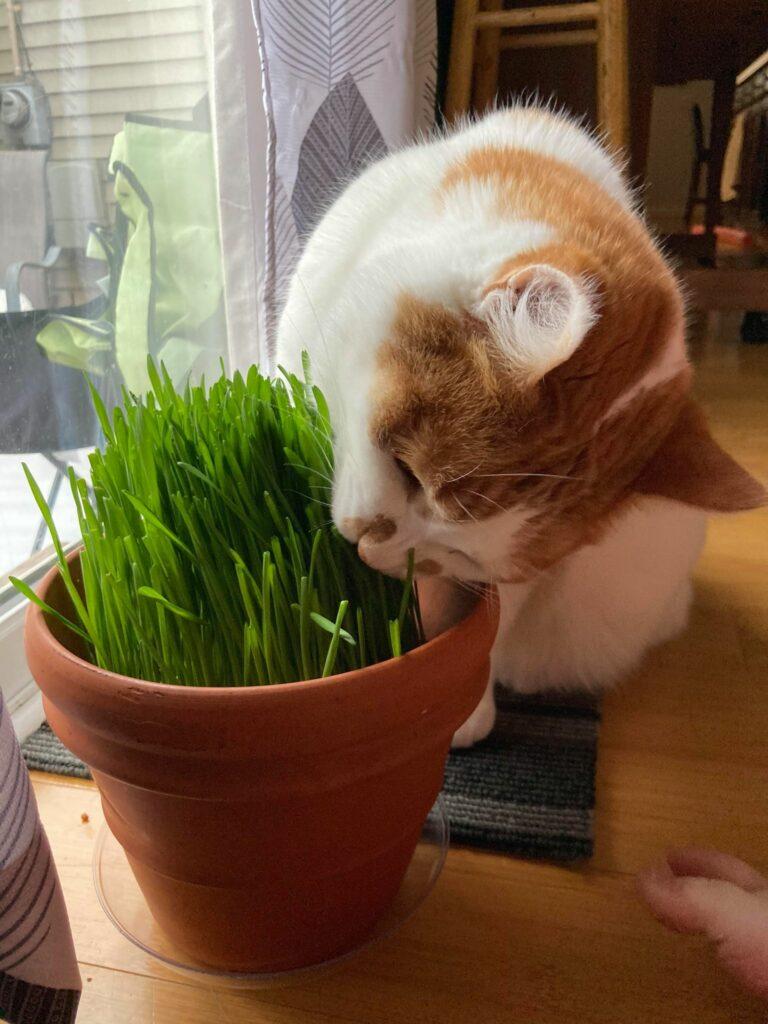 Some theories suggest cats like to eat plants because they're bored, curious, or have OCD. Others say they may be seeking relief for an upset tummy or maybe they have a vitamin deficiency. The most recent studies suggest this could even be due to an instinctual urge to rid the intestinal tract of parasites.
However, most cats will lose interest in basil after trying it out. It's not on the list of highly attractive plants for cats (like catnip or other cat grasses).
Health benefits of basil
For humans, basil is a really healthy herb with plenty of nutrients such as:
Vitamins A, K, and C
Iron
Manganese
Calcium
Magnesium
Omega-3 fatty acids
It also has anti-inflammatory and anti-oxidant properties and can help with depression and stress.
However, it's unlikely your cat will get much out of it, as they just don't require plants to survive. They can derive all the nutrition they need out of meat alone. And most cats won't do much more than sniff or lick this plant anyway.
Is St. Johns Wart safe for cats?
St. John's Wart is commonly mixed up as being just another name for basil, but it's actually different and it is toxic to cats. St John's Wart is scientifically called Hypericum perforatum, while basil is Ocimum basilicum. They're quite similar but different enough to where St. Johns Wart has toxic components that basil does not.
What herbs are cats attracted to?
While most cats aren't going to show much interest in basil, there are some that may pique their interest.
Catnip
This is an obvious one. It's the most common and popular herb that you may think of when it comes to plants cats like. This stuff is actually more than just something that tastes yummy – it actually can have a psychological effect on them due to a substance called nepetalactone. It's like a cat drug! But don't worry, it's not dangerous.
Some people confuse catmint with being another name for catnip, but they're actually different plants. Catmint does not stimulate cats in the same way and most aren't very interested in it (although some are).
However, did you know that studies show many cats are not attracted to catnip? Studies show somewhere between 1/2 – 2/3 of all cats appear interested in catnip. A desire for catnip is something that's passed down genetically from their parents.
My cat goes crazy for it, but my sister says hers aren't really interested. So you can test it out with your cats, but don't worry if they don't show an interest.
Silver vine
Scientifically named Actinidia plygama, this naturally grows in the mountain country of China and Japan. It's a great alternative to catnip, or can be used in addition to it. It produces the same euphoric effect, only it's twice as strong!
Lemongrass
Some cats are attracted to lemongrass in the same way they are to catnip and can get somewhat intoxicated by it. However, this one you need to be careful with because even though it's unlikely to harm your pet in its natural form (a plant), lemongrass essential oil is toxic to them.
Valerian root
Another safe choice, valerian is commonly used to calm cats. Some say it creates feelings of euphoria as well. This plant contains actinidine which is another cat attractant, similar to nepetalactone found in catnip.
Cat grasses
Wheatgrass and oat grass are commonly referred to as cat grasses because they just love them and they're completely safe (and healthy) for them to nibble on. These plants do not have any type of intoxicating effect on cats like catnip or lemongrass, but many still like to chow down on it. You can easily grow some of this indoors (or outdoors) and make it easily accessible to your cat.
What herbs are toxic to cats?
While basil is perfectly safe, there are other plants you'll need to watch out for. Unfortunately, certain species of plants can be dangerous or even deadly to felines. The best way to avoid your pet eating a toxic plant is to be aware of the ones that pose the greatest risk and keep them out of your home (and yards if they go outdoors).
According to ASPCA, these are the most toxic and common herbs to cats:
Chives and Garlic
Cannabis (Marijuana)
Oregano
Marjoram
Chamomile
Tarragon
Bay Leaf
Others such as lavender and mint can be harmful, but only if consumed in large amounts which is unlikely. Lemongrass is also commonly on the toxic list, but according to experts, it is very unlikely to cause harm if eaten in its natural plant form. It's mostly toxic as an essential oil due to such high concentrations.
In addition to herbs, there are many other common plants that are also toxic to cats.
According to Poison Pet Helpline, these are the most toxic and common plants that are dangerous to felines:
Autumn Crocus
Azalea
Cyclamen
Kalanchoe
Lilies
Oleander
Dieffenbachia
Daffodils
Lily of the Valley
Sago Palm
Tulips and Hyacinths
If you have outdoor cats, you'll want to avoid planting these in your garden. If you already have them, make sure they're not accessible to your cat.
If your cat is showing interest in nibbling on plants, grow them their own cat grass!
My cat always ran to eat grass every time he snuck outside, so I decided I'd try to grow him his very own grass. It was easy and he totally loved it! This can also help minimize your cat's interest in other plants, even potentially deadly ones.
You can follow my super beginner friendly tutorial for growing your own cat grass here.