This post may contain affiliate links. This means I may receive a small commission if products are purchased through them. All opinions are honest and remain my own.
You may find many your mother, aunt, even your doctor telling you that you absolutely can't have a cat when you're pregnant or around a newborn baby because it's "very dangerous". This is definitely not true at all, so don't freak out – you don't need to get rid of your cat if you're pregnant!
You can be a cat mom AND a human mom! With the right precautions taken, it's completely safe and actually beneficial to your child.
The threat of toxoplasmosis
The main concern about owning a cat when you're pregnant is the threat of something called "toxoplasmosis". This is an infection from a single-celled parasite called Toxoplasma gondii. Cats are common carriers of this and it's passed through their feces.
It's actually an incredibly common infection and it's estimated that over 40 MILLION people may be infected in the US alone, according to the CDC.
However, it's usually not serious and most people who are infected don't even know it. But in pregnant women, this infection could cause more serious health problems.
I know it sounds scary but it's still rather unlikely you'd get infected and there are steps you can take to make the chances near zero.
First of all, scooping out cat litter is only one way to contract this illness. It's more likely to be spread through touching dirt, like gardening without washing your hands, eating unwashed fruits and veggies, or undercooked meat.
Still, it's best to take all precautions possible when it comes to the health of you and your new baby. The easiest course of action to prevent this would be to simply have someone else scoop out your litter box for the duration of your pregnancy.
If you must scoop your cat's litter box while pregnant, here are some tips:
Wear gloves while scooping the litter box (and a mask to be extra safe)
Wash your hands very thoroughly
Scoop at least once a day, if not 2. Since the parasite does not become infectious in the cat poop for at least 24 hours after it's shed, you can eliminate your risk by simply scooping regularly.
After the baby arrives, make sure the cat stays out of the crib or wherever the baby sleeps
When I was pregnant, I couldn't keep my cats away from the baby stuff, especially Louie!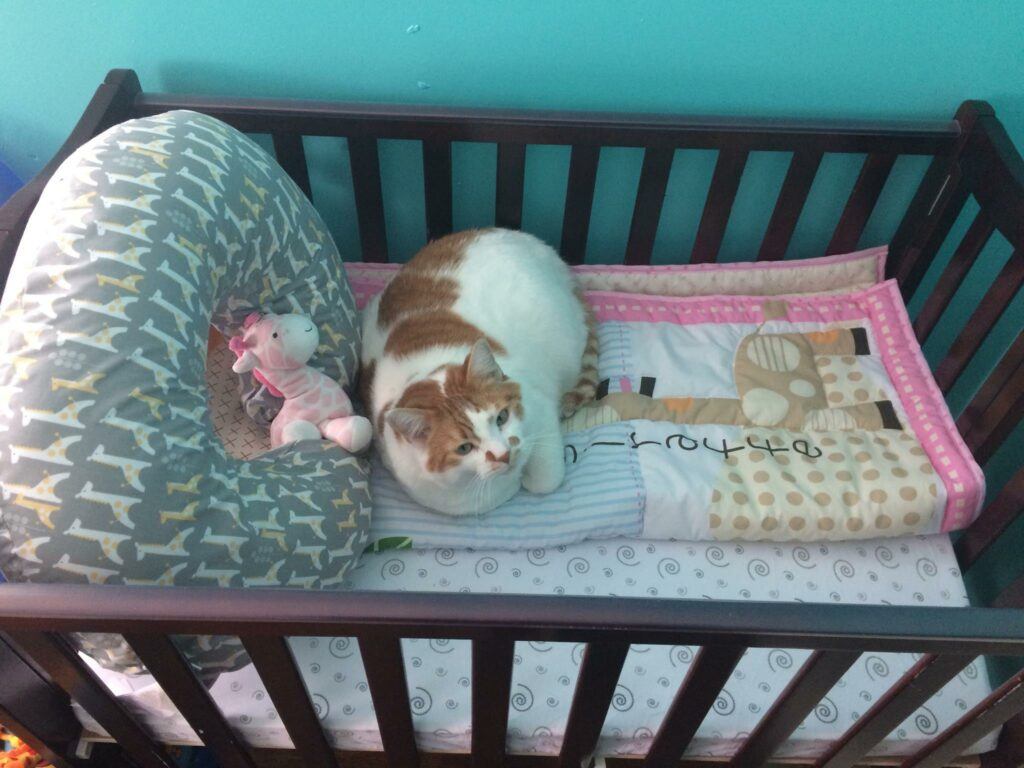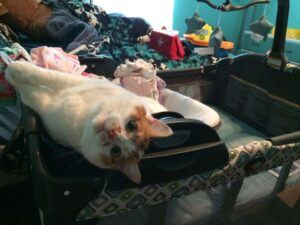 I was concerned that he'd try to jump in on her if she was sleeping in there! But after I had the baby, something happened… my cats wanted NOTHING to do with the baby stuff! Whew, that was a relief off my shoulders considering I was worried about the cat jumping on the baby while she slept!
So if you're concerned, it's pretty likely your cat is going to be cautious of your new baby and not try to smoother them or jump on them or anything.
That being said, obviously, all cats are different. To be absolutely safe make sure to keep the cat away from where your child is sleeping entirely, either by simply keeping the door shut, or preventing the cats from accessing that part of the house.
Teach toddlers to be gentle and use caution
The toddler years are the more challenging part. At least you don't have to worry about an infant pulling on the cat's tail, trying to pick them up, or playing in the litter box… (all legit things that I've experienced here) Make sure you check this guide on how to baby-proof your litter box so you're prepared for that one!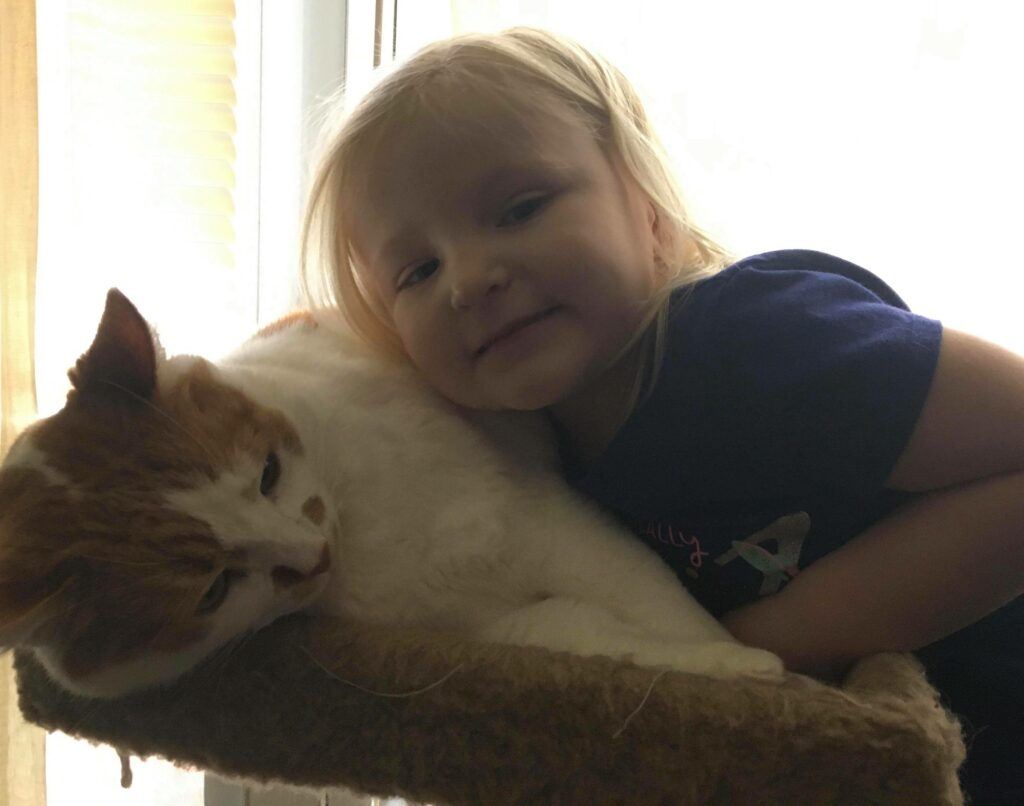 It can be challenging trying to teach your child how to properly show their affection for the cat. Something about chasing them and smothering them is fun for little ones…
We're still working on this with my 2-year-old (picture above) but it's getting better. Everyone is adjusting and he's able to tolerate her for longer periods of time.
Here are a few ideas to keep your toddler as safe as possible around your cat:
Keep your cat's nails trimmed
Make sure your cat stays up to date on their shots
If you have an outdoor cat, take measures to prevent fleas
Make sure your child is properly supervised around the cat
Keep reinforcing NO when you witness them trying to do something the cat would not like
Don't let them tease, chase, or capture the cat!
Cat scratch fever
One of the risks of a child getting scratched or bitten by a cat is CSD – cat scratch disease or also referred to as cat scratch fever.
This is an illness that is caused by cat scratches and bites that break the skin, or by cats licking an open wound and is typically only found in children (under 15). This is more likely to happen with stray cats than pets, and it's also much more likely in kittens (under 1-year-old). Keeping your cat flea-free will greatly reduce the risk.
Even so, most scratches do not result in this disease (according to the CDC) and the best action to take after it happens is to clean the wound thoroughly with soap and water. Most cases do not even require treatment.
Cats and allergies
A further look into this study (by the U.S. National Institutes of Health) shows that the introduction of pets such as cats and dogs early on in life reduces their risk of developing allergies. This study showed the greater the number of pets you had, the greater the protection of allergies!
One study tracked 249 children from infancy up until they were nine years old. For children who lived with no pets, 48% experienced allergies. This fell to 35% in the group of kids that grew up with one pet, and down to 21% for those that grew up with 2+ animals.
The second study tracked 1,029 children and found that for those that spent their first year with no pets, their rate of allergies was 48%. This went down to 43% to kids in homes with 1 pet, 24 % for kids who grew up with 3 pets. The allergy rate was down to 0% for kids that grew up with 5 pets, although there were only a total of 2 children in the group that grew up with 5 pets.
All in all, both studies conclude very similar findings – the rate of allergies decreases the more pets you're exposed to early on in life. So if you have multiple cats already don't stress – it could actually be a good thing for your child!
The Bottom Line
There are some considerations to keep in mind about having a cat and baby, but as long as you follow the proper precautions it's really not a big deal. Any advice to dump your cat completely after you find out you're pregnant is outdated at best. In fact, it can even be beneficial for a child to grow up with pets in the house.