This post may contain affiliate links. This means I may receive a small commission if products are purchased through them. All opinions are honest and remain my own.
Brushing a cat's teeth is not something I had ever thought about or considered until my beautiful calico cat Bela developed a tooth infection near the end of her life. She had to get several teeth extracted and go on a wet food-only diet. After talking to my veterinarian and doing plenty of research, I learned that it's actually quite beneficial to help domestic cats with oral hygiene, as they are not able to do it themselves. In this article we'll go over the steps of how to brush a cat's teeth, as well as other measures you can take to maintain a dental health routine.
Why do cats need their teeth brushed?
While it may not even cross most people's minds, especially when their kitties are young, dental diseases are actually extremely common in cats. In fact, over half of all cat's over the age of 3 have some type of dental disease, and according to the Cornell Feline Health Center, that figure could be as high as 90%. The three most common types of dental diseases in cats are gingivitis, periodontal disease, and tooth resorption.
Gingivitis – This is an inflammation of the gums due to plaque build-up. It is characterized by redness, swelling, and in more serious cases, bleeding where the gum and teeth meet. The good news is that gingivitis in cats is usually reversible with proper dental cleaning
Periodontal Disease – Periodontitis is what happens when gingivitis is left untreated. The connective tissues around the teeth become so weakened and deteriorated from harmful bacteria and inflammation that the teeth begin to loosen and may even fall out. Advanced periodontitis cannot be reversed, only treated by a veterinarian.
Tooth Resorption – This is the breakdown of the actual tooth structure. The cat's body literally starts absorbing the tooth, beginning with painful lesions near the gum line and continuing the destructive process until eventually only a little nub is left. The cause of the disease isn't known for sure, but it is believed to affect up to two-thirds of adult cats.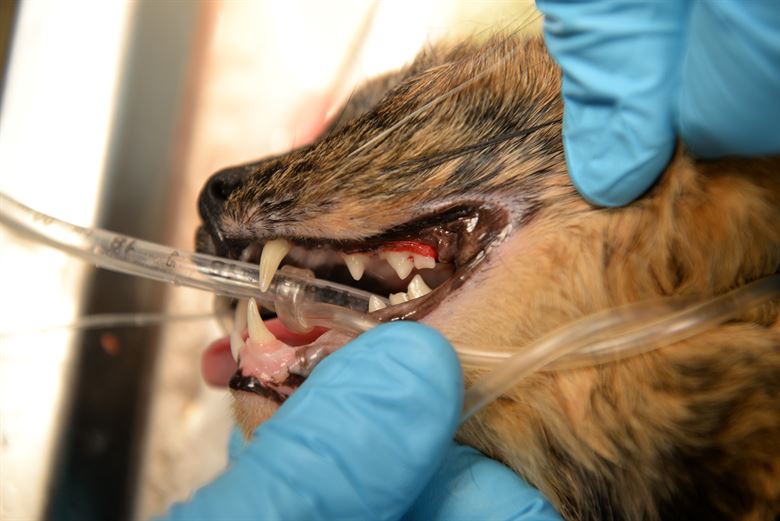 These are the three most common dental diseases but some other issues include stomatitis, tooth root abscess, and organ damage from periodontal disease. Yes, dental disease can lead to problems in the rest of your cat's body (because of infected bacteria traveling through the bloodstream.) The affected organs most notably include the heart valves and kidneys.
Yikes! All the more reason to stay on top of your cat's dental health. Don't feel guilty if you weren't aware of any of this – I wasn't either until much later in my life. Many other pet owners are in the dark on this topic as well. Once you learn how common dental issues are in cats and how serious they can be, that is the time to start getting proactive about feline oral hygiene.
Cats are masters at hiding pain
Remember that cats naturally hide any pain they might be feeling due to instinct. Cats in the wild who revealed signs of weakness were the first to get killed by predators, so they can and will wait to cry out in pain until they are seriously ill or near death.
This means that they won't communicate to you that they are starting to develop any pain or discomfort due to dental issues. You will have to look for subtle signs in their behavior or take them into the vet for a checkup to be sure all is well.
Signs that your cat might have dental disease:
Bad breath (this is the number one symptom noticed by pet owners)
Drooling
Difficulty eating/trying to swallow dry food whole instead of chewing
Tilting head to one side while eating/eating with only one side of the mouth
Bleeding gums
Behavioral changes (maybe they stop sleeping with you at night, stop their normal play routine, or start hiding)
Brushing your cat's teeth will save you money in the long run
Because the treatment for any seriously advanced dental disease is usually incredibly expensive, (in the thousands of dollars) beginning a tooth brushing routine as early as possible could potentially save you major bucks long term.
You could also take your cat into the vet for a professional cleaning, during which she would be put under general anesthesia. That could run a few hundred dollars (I've heard up to $400) but that really depends on a number of factors so you would have to ask your vet for an estimate. I think it makes financial sense to pay for a professional cleaning before any major problems arise, then continue a regimen of teeth brushing at home. This would help to prevent even bigger vet bills in the future, as well as spare your cat pain and suffering.
How to brush your cat's teeth
Step 1: Gradually get her used to having her teeth and gums massaged
Unless you get your cat used to a daily teeth brushing ritual from the time she's a kitten, she will probably need a training and adjustment period for you to be able to manage it with an adult cat.
The best way to begin brushing your cat's teeth is a slow, gradual process to help her ease into it. You can do this step whenever you would normally be petting your cat. Begin by massaging her around the face and neck area, then slowly lift the sides of her mouth and get her used to being touched around the gums and teeth. It doesn't have to be too extensive at first.
Gradually do that more and more, whenever you are sitting with your cat and she is in a relaxed state. After a few days, try putting a little bit of cat toothpaste on your finger and working that over her teeth.
IMPORTANT: Never use human toothpaste on a cat! You must use cat toothpaste, which is specially formulated to be swallowed. Using human toothpaste on a cat can cause internal damage.
Step 2: Introduce a cat toothbrush
Once your cat has acclimated to having her mouth handled, you're ready to try it with a toothbrush. There are a few different types of cat toothbrushes on the market. These finger toothbrushes are probably the most popular among pet owners because of their high degree of control. They also make cat toothbrushes with a more traditional shape that resembles a small human toothbrush, or toothbrushes with a 360 degree head. Whatever toothbrush you use, it should be designed for cats. The bristles are softer and won't hurt their mouths.
If you like, you could buy a cat toothbrushing kit that comes with a couple different styles of brushes, so you can see which kind works best for your cat. Most kits also include cat toothpaste, like this one from Petrodex.
Put a small amount of toothpaste on the brush and work it over and around your cat's teeth, basically just like you do to your own. Unlike our own brushing routine, you don't need to brush your cat's teeth for 2 or 3 minutes at a time. Most cats would probably not tolerate that anyway. 30 to 40 seconds is plenty of time for their tiny little teeth. Just make sure you get the back ones!
Step 3: Figure out the best position to hold your cat while brushing her teeth
This step will be the key to success in your endeavor to start and maintain a teeth brushing routine for your cat. I find that my two cats each require slightly different approaches.
For Bear, it works best if I kneel on the floor and hold him against my legs, with his back to me. This way he can't back up and escape. That position works best for him, but Chickadee (my squirmy wormy) crouches her body too low for this position to work very well. For her, I wait until she is resting comfortably up on the couch. Then I crouch below her and brush her teeth, while my husband sits up on the arm of the couch, petting her and holding her in place.
Be very careful not to accidentally press against your cat's throat while you are doing this. The key is to be quick and gentle.
Step 4: Stimulate the gums while brushing
While you've got your cat relaxed (enough) to tolerate a quick teeth brushing session, don't forget to stimulate the gums with your finger while you do it. This will go a long way in ensuring their long term oral health because most dental problems begin with irritated gums. Just like human mouths, massaging helps strengthen gums and prevent dental disease from beginning.
Healthy gums should look pink. If your cat's gums look red and irritated, or they appear to be in pain when you touch them, that's a sign that they definitely need to be taken in to the vet.
Step 5: Reward with plenty of praise and healthy treats
Though teeth brushing is something that your cat will most likely never enjoy, it is for her own good and you should do everything you can to try to make it work. Associating teeth brushing with positive things like praise and treats can help her accept it as part of her daily life.
Stick to a routine
Once you establish the best way to brush your cat's teeth, try to make it a part of your daily routine. If you're having trouble getting your cat to accept the brushing, try not to give up, but don't force it so much that you and your cat become stressed.
Slow it down, try again at another time when you are both calm. Even if you can only get her to accept it for a few seconds at a time, a few seconds is better than nothing at all.
If your cat will tolerate it, this daily annoyance really will help your kitty in the long term. It's certainly worth at least giving it a shot!
However, some cats simply will not let you brush their teeth no matter what you try, so don't be too hard on yourself if they won't let you do it. There are alternatives like special dental rinses and treats for cats, and you could even take them in for professional cleanings at the vet.