This post may contain affiliate links. This means I may receive a small commission if products are purchased through them. All opinions are honest and remain my own.
Litter: Fresh Step Clean Paws Low Tracking
Litter Type: clay-based clumping cat litter
Price Range: $$
Rating: 3/4 stars – OK but for the price Fresh Step is better
Summary: I was not impressed with this version of Fresh Step litter. It did not clump my cat's urine very well at all, and they broke apart in countless tiny pieces, making the litter hard to scoop and very dirty. I also found it messy and my cat's STILL tracked it all around the litter box. This litter has overwhelmingly positive reviews everywhere online, but for me and my cats, it didn't work out. I would recommend the regular version of Fresh Step before this.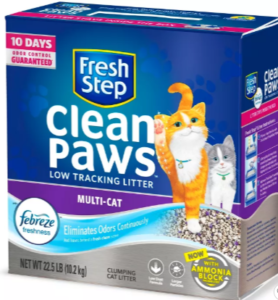 Overview
Fresh Step has come out with a new line of cat litter products called "clean paws". This litter feature larger clumping granules, which is supposed to be very low dust stick less to your cat's paws and be cleaner since they won't be able to track it around the house.
I first decided to try this for my cats with my first Chewy order. Of course, I had gotten one of those $15 dollars off coupons to use towards my first order. I combined that with their 30% off your first auto-ship and was able to get a super deal on a bunch of cat supplies. (Although currently, Chewy says this particular item is not included with their first time 30% auto-ship deal, just a heads up)
I was browsing around their selection of cat litters and figured, what the heck, I'd try something different. I typically use Fresh Step (regular clumping litter), Scoop Away, or Arm and Hammer. Since this was the Fresh Step brand, I figured it had to be good since I do like their other stuff.
Unfortunately, I was a bit disappointed. While my experience wasn't great, I do realize that all cats are different.
In this review I'll be talking about the pros and cons of Fresh Step Clean Paws low tracking litter, so you can decide for yourself if it's right for your cat(s).
Features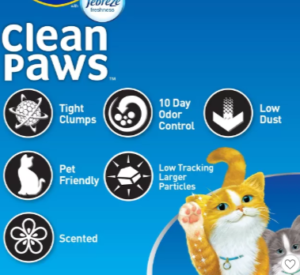 According to Fresh Step, their clean paws version features larger particles that are low track, meaning they won't stick to your cat's paws and end up all over your house. It's also low dust (that part is true), produces tight clumps (wasn't the case for me), and has larger particles, also true.
They have different versions – multi-cat, triple action, and unscented.
Each features activating charcoal and is supposed to block odors for up to 10 days, I've never gone 10 days without scooping the box so I don't know if that's true, but it does do a great job of keeping smells down.
I find that in order to truly keep the smell down you need to clean the box every day. True for any litter.
What I liked about it
This is virtually dust-free – if you're looking for a litter that you don't have to inhale as you pour it in the tub, this would be good for that.
Blocked odor – it did a pretty good job in this department. However the Febreeze multi-cat clean paws version was pretty strong, so if your cat is sensitive to odors definitely opt for the non-scented version. They both block odors.
What I didn't like
Unfortunately, there are way more cons than positives with this litter (in my personal experience).
Did not clump well – I found this litter did not clump urine well! As I scooped, the pee clumps would just fall apart, leaving the litter box cluttered with tiny bits that I was unable to scoop out completely. With better clumping litters (including Fresh Step's original) this does not happen and the litter stays relatively clean after scooping.
Didn't stop tracking – my cats still got litter all around the outside of their litter boxes and tracked it through the hallways, even though it's supposed to prevent that.
Used up quickly – I found that I'd go through the clean paws version litter more quickly compared to the regular Fresh Step clumping litter. This is probably because the litter granules are so much larger in size it takes more of them to clump the pee, but also because the clumps kept breaking up all throughout the litter box so I'd have to scoop much more of it out to try to keep it clean each day.
The Bottom Line
Unfortunately, the weak clumping ability was a deal-breaker for me. But if you're looking for a low-dust, low tracking cat litter, feel free to give Fresh Step Clean Paws a try. Just buy one box to test it out first.
I much prefer using Fresh Step Multi-Cat Extra Strength or Scoop Away. (Arm and Hammer Clump and Seal is actually my favorite, but it's pricey!)