This post may contain affiliate links. This means I may receive a small commission if products are purchased through them. All opinions are honest and remain my own.
Even though I don't have particularly large cats, I'm on the hunt for the perfect scratching post and I want it to be sturdy and large. My cats are average sized but they are wild, love to climb, and have a tendency to knock over everything possible. If you're in a similar boat, or have large cats, read on to find out my top 9 choices for extra tall cat scratching posts.
In my search I discovered that many scratching posts on the market are actually quite short (sometimes less than 2 feet), which is fine, as it's nice to have a variety of size options. But for the purposes of this article, we're going to be looking at the best taller models.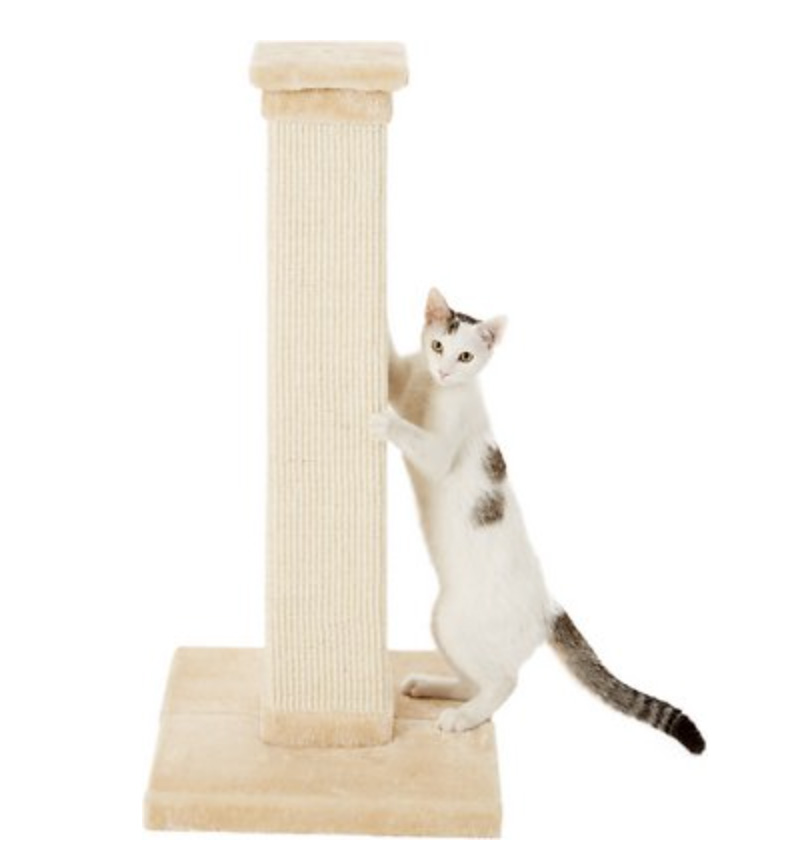 Why do cats need to scratch?
Scratching is a fundamental part of normal and healthy cat behavior for a few reasons.
First, scratching helps cats maintain and groom their nails. Scratching rough surfaces helps the dead outer layers of nail to fall off, revealing the new and sharper claws beneath.
Second, cats scratch areas of their choosing in order to spread their scent and mark their territory. Cat paws have scent glands in them, so using their claws releases pheromones onto the area and lets other cats know what's up.
Third, scratching helps cats stretch their muscles, which is vital for maintaining healthy body movement.
Another reason cats scratch is to burn off extra energy. This is especially true for indoor cats, who get less exercise than outdoor cats.
Finally, it is believed that sometimes cats might scratch to deal with or relieve anxiety.
What are the advantages of a tall scratching post?
Tall scratching posts are preferred by some cats, especially larger cats, who are vertical scratchers and who like to get in a full body stretch when using the post. Some posts are simply too short for them to be able to extend their full length.
Extra tall models are also good for cats who like to do the scratch/climb combo thing. Having a scratching post with enough stability and height allows them to get out that climbing energy and can be a great source of exercise.
The Best Extra Tall Scratching Posts for Cats
Height – 32″
The SmartCat Pioneer Pet Ultimate Scratching Post is one of the best rated large posts on the market. It stands 32″ tall, with a 16″ x 16″ base and comes in two attractive color schemes.
The four sisal-covered sides of this hefty post offer plenty of scratching surface for a long lasting product, while the shape and weight of the base prevents it from toppling over. Check out what other reviewers are saying here.
Height – 42″
PetFusion is a trusted brand and one of my personal favorites when it comes to cat furniture and accessories. I love that this design is a scratching post and window perch in one!
Suction cups along one side of the perch attach securely to any window, giving the post stability as well as a place for your kitty to hang out and survey her territory. Plus, at 42″ tall, it's definitely one of the tallest scratching posts out there. The PetFusion Climbing Perch is a great choice for active cats.
Height – 36.6″
The beauty of a wall mounted scratching post like this one is that no matter how rowdy your cat is, he can never tip it over! At over 3 feet, this post is nice and tall, with a stepping platform in the middle for jumping and climbing.
I love the space saving design of this climber, as well as its versatility. You could install it on the wall as a stand alone post, or place it above a cat condo as an extension piece. Find the Odoland Wall Mounted Scratching Post here.
Two Height Options – 31.5″ and 41.3″
This adorable cactus scratching post uses the same kind of sisal rope as others; it's just the green version to give it a more decorative look for your home. Perfect for succulent lovers and cats alike, this post comes in two large size options – 31.5″ and 41.3″.
I like that the cactus arms provide more scratching surfaces and more areas for cats to climb. Beneath the sisal rope this post is made of large PVC piping. Reviews say that the design is sturdy and that cats love it. Read more reviews here.
Height – 30″
This unique design by 4CLAWS offers a different kind of solution to the issue of scratching post stability. The tripod base not only helps keep the post from tipping over, it simultaneously provides three additional scratching surfaces and encourages climbing.
The four sisal-covered poles are brought together with an aluminum joint, and comes with stainless steel screws that don't require any tools for assembly. Check out this one of a kind post on Amazon.
Height – 41″
This scratching post is a beast! The base size of 19″ x 19″ blows its competitors out of the water and at 41″ it's one of the tallest posts on the market. Tightly wrapped in extra thick sisal rope and weighing in at 19 lbs, it would take a LION to knock this bad boy over.
Perfect for large and rowdy cats, check out this post here, on Amazon.
Two Height Options – 26″ and 32″
For whatever reason, some cats prefer carpet only and will not touch sisal material. Like humans, every cat is different with his or her own tastes and preferences. For cats who love the texture of carpet, this carpet-covered post is a terrific option.
The base is a nice sturdy size of 16.5″ x 16.5″ and it comes in two height options of 26″ or 32″. Simple but effective, it's hard to go wrong with this post if your cat insists on carpet scratching.
Height – 34″
This post by Dimaka is the perfect height for cats of all sizes to get a good full-length stretch. The toy attached to the top encourages play and exercise, and the plush covered base comes in multiple color options.
For a taller post, the Dimaka is one of the more moderately priced, which is always a plus. The square base is just shy of 16″ x 16″. Check it out here.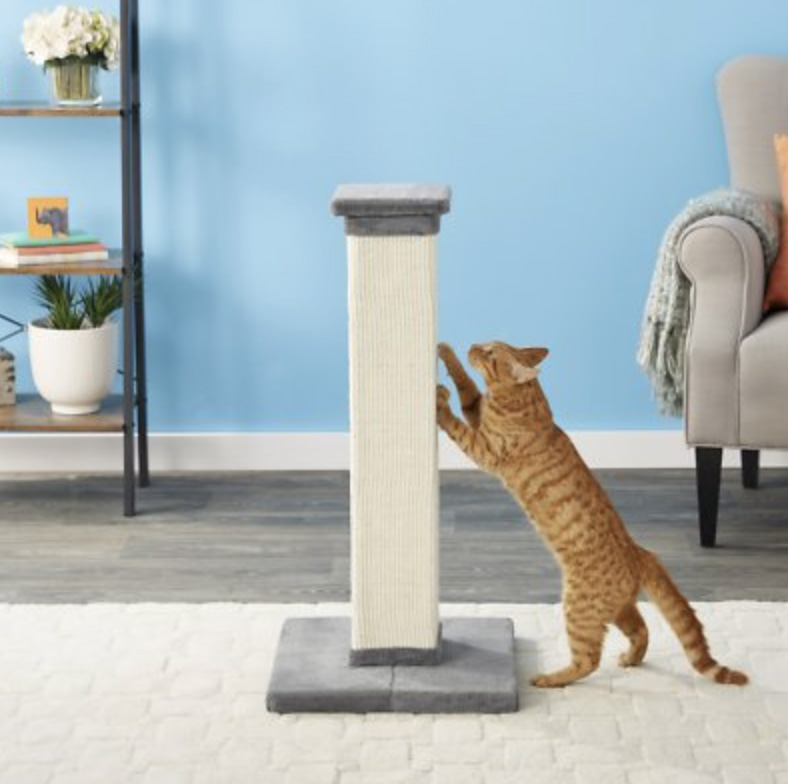 Height – 33.5″
We'll finish it up with another wildly popular, traditional stand-alone sisal scratching post. This version is available on Chewy, and boasts a nearly perfect customer review score.
Similar to the SmartCat Pioneer Scratching Post, but even taller, heavier, and covered with plush carpet at the base and top. This post comes in 3 color options, which is always nice and I think a sign of a trusted quality product.
So how do I know which scratching post is right for my cat?
Ultimately you can't be sure of which post your cat will use and love the most until you just try one out. If you're really unsure, I would recommend starting at a lower price point (which for extra tall posts is the $30 – $35 range.). That way, if they don't love it, you haven't spent too much money, and you can use the first model to determine what direction to go next.
If you enjoyed this list of recommendations and would like to peruse others, check out some of our related articles here.