This post may contain affiliate links. This means I may receive a small commission if products are purchased through them. All opinions are honest and remain my own.
It's that special time of year again! This year I think we could all use a little extra cheer around the holidays. One nice way to achieve that could be by making up goody-filled stockings for your furry little quarantine buddies. Watching them play with their new toys (and the wrappers) on Christmas morning will bring just as much joy to them as it will to you. So I've rounded up what I believe to be the best list of cat stocking stuffer ideas ever.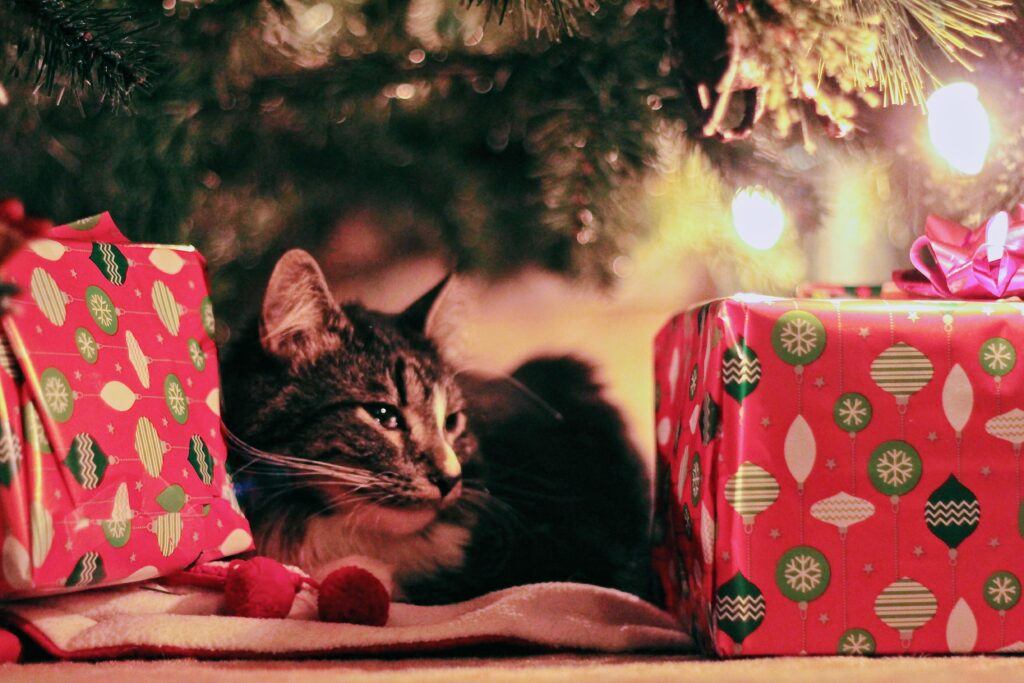 Stuffer Ideas
I don't know what it is about the crinkling sound on these little catnip-filled toys, but my cats go absolutely nuts for it. The size and shape of these fish is perfect for cats' hunting instincts and the feathers add the perfect finishing touch. These toys are proven winners.
SmartyKat really makes the best cat toys. Ever play with your cat by moving your foot around under a blanket? This toy emulates that scenario perfectly. Flashing lights on the toy help to keep cats engaged and the speed is customizable. A great buy.
I am STOKED to find this product. My cats absolutely love feather-waving type toys, but admittedly, I get sick of waving them around pretty quickly. This robotic toy solves that problem and keeps the cat entertained for hours with zero effort on your part. You simply charge the battery, attach the toy of your choice, and let it run wild! The sides of the toy are color changing LED lights for even more fun and stimulation. It's also made out of a super durable material so you don't have to worry about your cat chewing or breaking it.
I can't say enough good things about Greenies. My cats love these treats just as much as the regular kind, but I feel better about giving them something that is actually good for their teeth. A great filler to add to your kitty's stocking.
As a huge fan, I would probably buy anything that was endorsed by Jackson Galaxy. These satellite cat toys are certainly no exception. The unique design of these balls makes perfect sense for the way that cats like to play. Not only do they roll and bounce, but the lightweight material and reach-through design make them great for catching with claws and teeth.
If you have a Bergan Turboscratcher (and every cat parent should) swapping out the plain white ball for a light up twinkle ball is an excellent stocking stuffing idea. Or, if you're like me, you already have one but it stopped working quite a while ago. (The battery wears out after about 6 months.)
I couldn't wait until Christmas and recently ordered this replacement 2 pack, along with a pack of replacement pads. Both cats immediately started playing with it again and scratching the pad. It seriously is the best cat toy/scratcher combo ever.
Speaking of Bergan, I love this whimsical cat toy because it reminds me of those rubber pop up toys I used to play with as a kid. Flip the rubber half sphere over, set it near your cat, and watch them go nuts when it pops up into the air!
Practical presents are always secretly the best. If your cat goes outside, having a breakaway collar is a must. They have a safety feature that will release if your cat gets stuck on something. (I know they work because my cat came home without hers one day.) Adding your custom information to the collar itself is a nice alternative to a tag which could potentially fall off.
This organic catnip-filled condor is a hilarious looking toy that I can easily see becoming my cat's next favorite. The shape and feathers are perfect for encouraging a cat's natural hunting instinct. Would be a great addition to any cat stocking!
This super simple cat toy is very effective and fun to keep around the house. It's really just spring steel wire and rolled cardboard but hey, it works great!
It's always a good idea to have multiple scratching surfaces around the house to keep kitty's claws away from the furniture. This cute design can hang from a doorknob or hook, or simply lie flat on the floor. I like that this one is small enough to fit in a stocking!
Yessssss. Best. Cat. Stocking stuffer. Ever. Before you open this present for your kitty, make sure your phone battery is fully charged, as you will undoubtedly be taking cute pictures for the rest of the entire day.
When I think of holiday stockings, I think of edible goodies. These Sheba meaty tender sticks would be something different and an extra exciting treat for my cats on Christmas morning.
Another variation of texture comes in the form of these soft-moist treats by Blue Buffalo. Something in between the hard pellets and the soft pate that they are used to eating on a daily basis. A pack of these tucked into your kitty's stocking would definitely be well received.
I love this idea! A toy cricket that makes a little chirping sound when the cat grabs it. This is so perfect for my little insect hunters and unique in that it offers the cat a chance to catch something and proudly bring it back to you as if he had caught a real bug. Comes in a variety of other animals as well.
This is one of those little genius cat products. Lined with soft, eco-friendly plastic bristles, this self-groomer can be filled with catnip and mounted to any corner in your house. Cats love to have a special area to spread their scent and give their face a good massage. One reviewer posted a cute video of her cat using it and described it as, "kitty cat heaven."
I've been seeing ads for this product lately and upon further inspection, it does seem like a pretty good cat toy. Similar to the robotic rolling cat toy, the fish has to be charged with a USB cable. It comes equipped with a motion sensor, so when it's ready you place it on the floor and the tail will start to whip back and forth when your cat touches it. The softer feel of the fish will make your cat want to grab and kick and go wild with this innovative toy. A very nice present for a special occasion.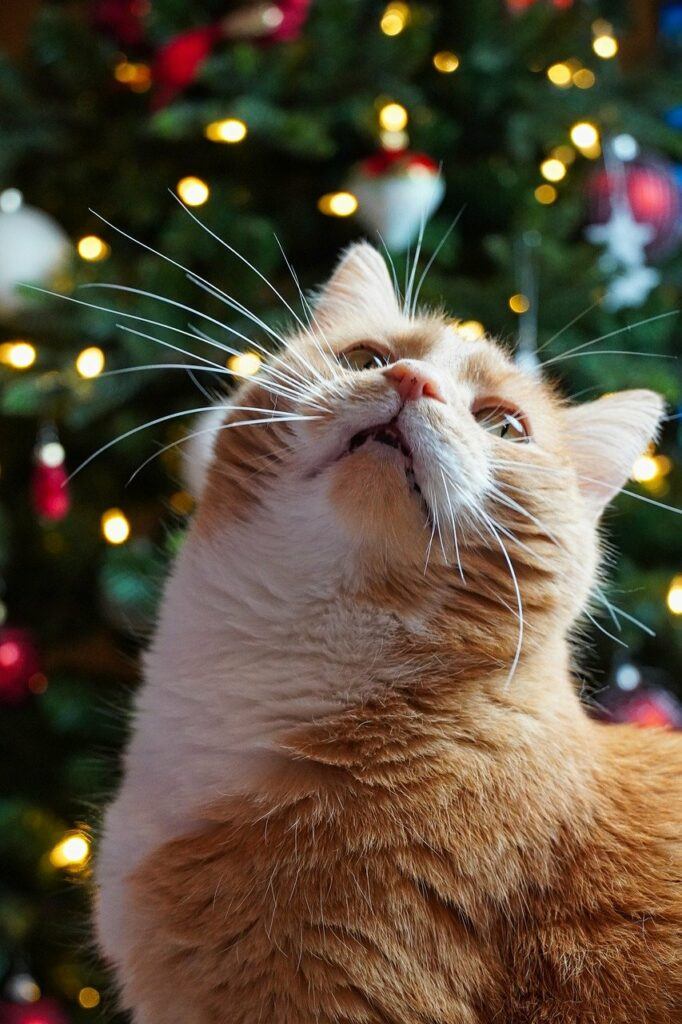 Ok, so this can be a present for both you AND your kitty. Jade rollers have natural health benefits and can be used on your face and other body areas to promote blood circulation, reduce swelling or puffiness, even help with migraines. And as an extra bonus, a lot of cats like them too! Check out this video of a cat getting a good facial massage with a jade roller.
If you aren't sure what your cat's favorite type of toy is, you can't go wrong with getting a variety pack of toys such as this one, by Fashion's Talk. This type of purchase is just the ticket if you are looking to fill a large stocking with lots of goodies. You can dump it out by the tree and between the bounty of new toys and all the wrapping paper, your cat will be in paradise.
20. Churu Lickable Purée Wet Cat Treats
These highly rated cat treats are made from real deep sea tuna or farm-raised chicken, plus added vitamins. They come in a squeezable pouch that you could interactively feed to your cat, or you could put it on top of their regular food. A delicious holiday luxury.
Cat Stockings
Of course you'll need a vessel for all these surprises so I thought I'd include a few cat-themed holiday stockings. I found some great ones on Amazon as well as gorgeous handmade options from my favorite website Etsy.
Glitzhome offers several nice designs themed around both cats and dogs. Well made and durable, it's nice and large measuring approximately 10″ wide by 20″ long.
Have multiple kitties? This set of four plaid cat paw stockings are a bargain. Each one measures 7″ wide by 18″ long.
I love the fish design of these stockings, as well as the rustic look of the plaid and burlap. I think these would be super easy to customize yourself by adding your cats' names somewhere.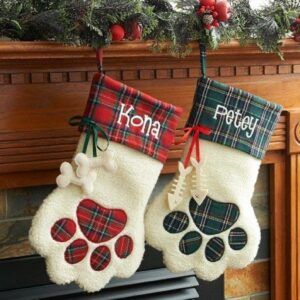 These are similar in look to the four pack found on Amazon, but these are larger, handmade, and the price includes a custom printing of your pet's name. These beauties can be found on Etsy at the shop of seller Fall Star Couture Inc.
The RabbitPrint shop offers clothing and gifts for animal lovers. This unique holiday stocking is customizable to include your cat's name and features a beautiful hand printed cat drawing.
And that's a wrap! I know this Christmas is unlike any we have had before, and I can't think of a better way to make it more festive than by getting creative and including pets in the traditions perhaps in a way we hadn't thought of before. Not only will creating a beautiful stocking for your cat be fun for them, it will be fun and uplifting for YOU.
Stay safe out there everyone, and happy holidays!