This post may contain affiliate links. This means I may receive a small commission if products are purchased through them. All opinions are honest and remain my own.
I'm known as the "Cool Whip Queen" within my family, as I quite often bring desserts involving Cool Whip to holiday gatherings. But hey, it's just so good! It's so delicious, in fact, that I've even caught my cat Louie licking out of the container!
Of course, I immediately took it away from him, and it got me thinking… can cats eat Cool Whip? I mean, I know it's not healthy by any means, but could it actually cause harm to felines?
(My cat was totally fine, by the way, but I still decided to do some research into this topic.)
You probably shouldn't give your cats Cool Whip on a regular basis because it's full of chemicals and junk, including hydrogenated oils and lots of sugar. It also contains some dairy, which can cause digestive upset in many cats. However, there's nothing in Cool Whip (or any whipped topping) that is life-threatening to cats.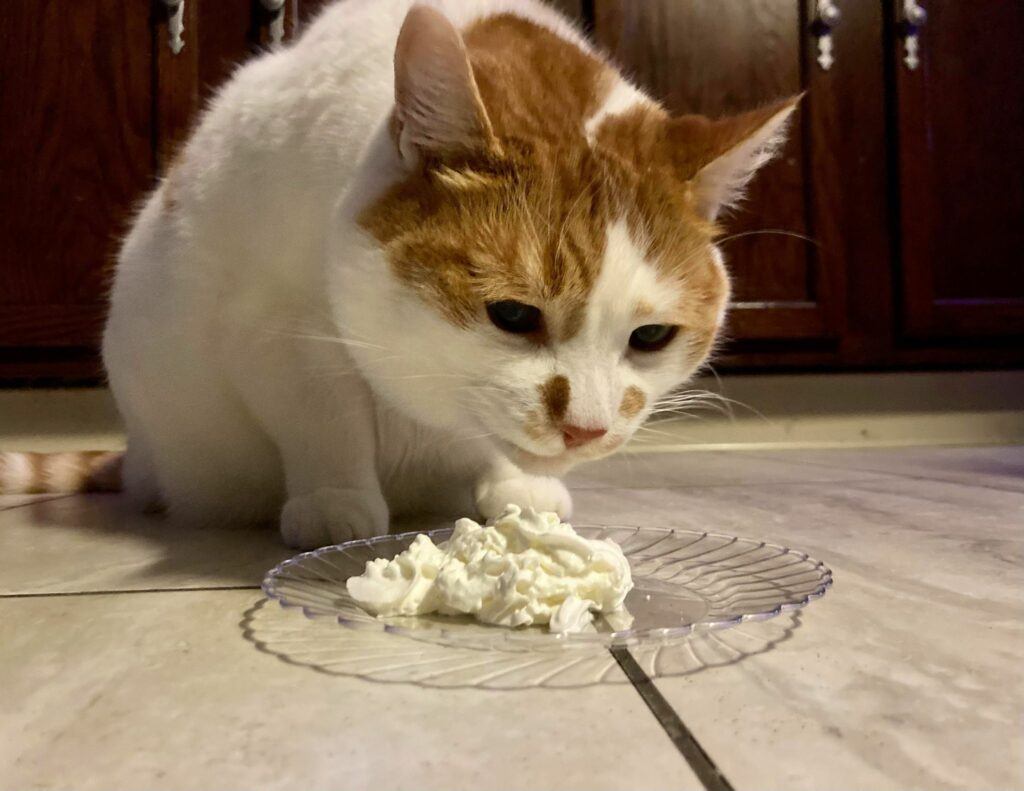 What exactly is Cool Whip made of?
Cool Whip is sort of a weird concoction of chemicals… which makes it tasty but not really good for humans or cats. It's largely composed of corn syrup, hydrogenated vegetable oils, and skim milk.
For the full list, here's the information directly from the container:
Ingredients: Water, Corn Syrup, High Fructose Corn Syrup, Hydrogenated Vegetable Oil (Coconut & Palm Kernel Oils), Skim Milk, Contains Less Than 2% Of Light Cream, Sodium Caseinate, Natural And Artificial Flavor, Xanthan And Guar Gums, Modified Food Starch, Polysorbate 60, Sorbitan Monostearate, Sodium Polyphosphate, Beta Carotene (Color).
Allergens & Warnings: CONTAINS: MILK.
Dairy, sugar, and hydrogenated oils are not good for cats
Even though sugar and hydrogenated oils aren't the best things to feed your cat, the lactose within the milk and cream is actually what could cause your cat the most harm.
This is because cats tend to become lactose intolerant as they age, which just means eating dairy makes them sick.
Lactose intolerance symptoms can include:
diarrhea
vomiting
gas
stomach cramps
Your cat may or may not be lactose intolerant, but it's always best to err on the side of caution. If you do notice any of these symptoms in your cat after eating any type of dairy product, just don't feed it to them anymore.
The good news is it's not anything that will kill them, so if your cat does get ahold of some Cool Whip it's really not a big deal. Just make sure to keep a closer eye on them for the next couple of hours.
Can cats eat whipped cream?
Another common question is if cats can eat whipped cream. While whipped cream isn't toxic to cats, it is made up primarily of cream, which contains lactose.
And as mentioned previously, since many cats become lactose intolerant as they get older, it can make them a bit sick.
In fact, eating whipped cream is probably more likely to make your cat have a tummy ache than Cool Whip, since it contains a much higher quantity of lactose. This is due to the fact its primary ingredient is heavy cream, while Cool Whip is mostly water, sugar, and oils with just a little bit of milk and cream.
Whipped cream also has added sugars which aren't good for cats either.
But what if dairy doesn't make your cat ill?
Not all cats are lactose intolerant, and some absolutely love anything with milk and cream. If your cat begs for this stuff every time you bring it out of the fridge (and they don't experience ill effects), it's fine to give them a tad.
However, you could try giving them hunks of hard cheese (like cheddar) or plain milk instead, as they don't contain as much sugar as Cool Whip or whipped cream.
Just remember that experts suggest any extra treats in your cat's diet make up no more than 10% of their daily needs. You want their main food source to be something that is nutritionally balanced for them (any standard cat food, wet or dry, meets those needs), and giving them too many extras could ruin their appetite.
Healthy Treat Alternatives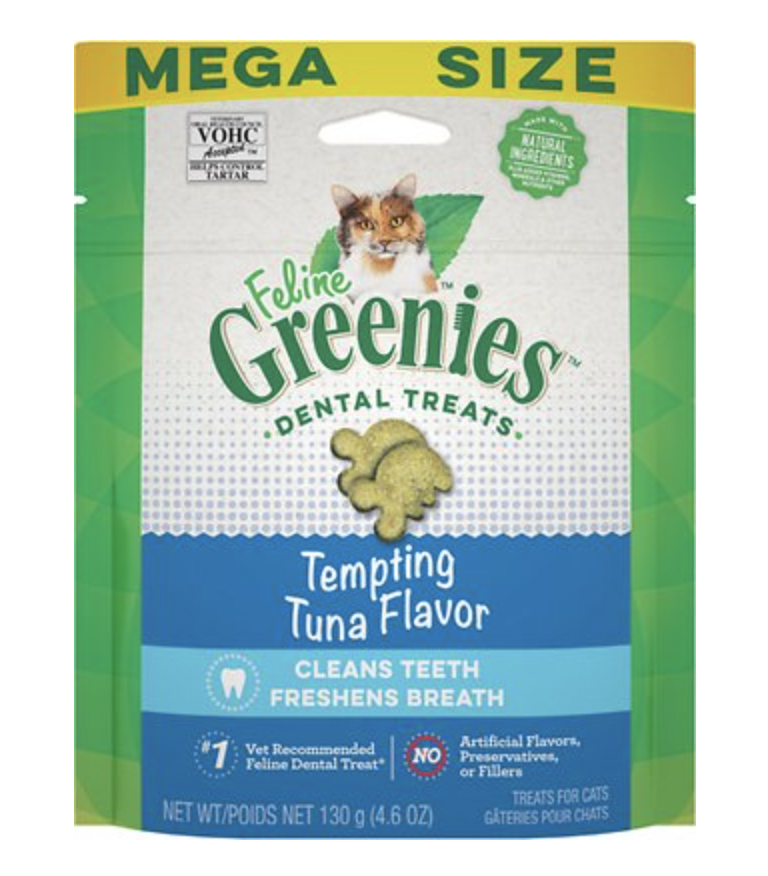 In lieu of human food or standard cat treats, try Greenies dental cat treats. These treats are a great alternative to typical cat treats because they're specially designed to help freshen breath, reduce tartar buildup, and keep your kitty's teeth clean. Plus, cats love them!
Greenies treats are nutritionally complete, contain no artificial flavors or preservatives, and are less than 2 calories per piece. So, if you adjust the amount of your cat's regular food, you can get the most out of the dental benefit by feeding an average 10 lb cat 8 treats, twice daily.
You can find Greenies at most of the larger grocery stores, pet stores, or you can purchase through Chewy, our number one recommended online pet supply retailer. Chew offers 2 day shipping and autoship orders, so keeping stocked up on pet supplies is easy, even during a pandemic!
Check out Chewy and get 30% off your first autoship order with this link.
The Bottom Line
Cool Whip isn't toxic to your cats, so if they get ahold of it it's really not a huge deal. The worst case scenario is your cat could end up a little gassy or experience some diarrhea from the dairy.
If you want to learn more about what food is safe to give your cat, check out our Ultimate List of People Food Cats Can (and Can't) Eat