This post may contain affiliate links. This means I may receive a small commission if products are purchased through them. All opinions are honest and remain my own.
As a compromise between keeping indoor cats safely contained and letting them enjoy some fresh air, outdoor cat enclosures, or "catios", are becoming increasingly popular. If you search the internet, you can find all sorts of elaborate and inventive ideas.
The reality of actually building one yourself, however, can quickly become a little daunting for inexperienced builders (like me) in terms of both do-ability and affordability. But with a little help from the internet, affordable outdoor cat enclosures are totally possible!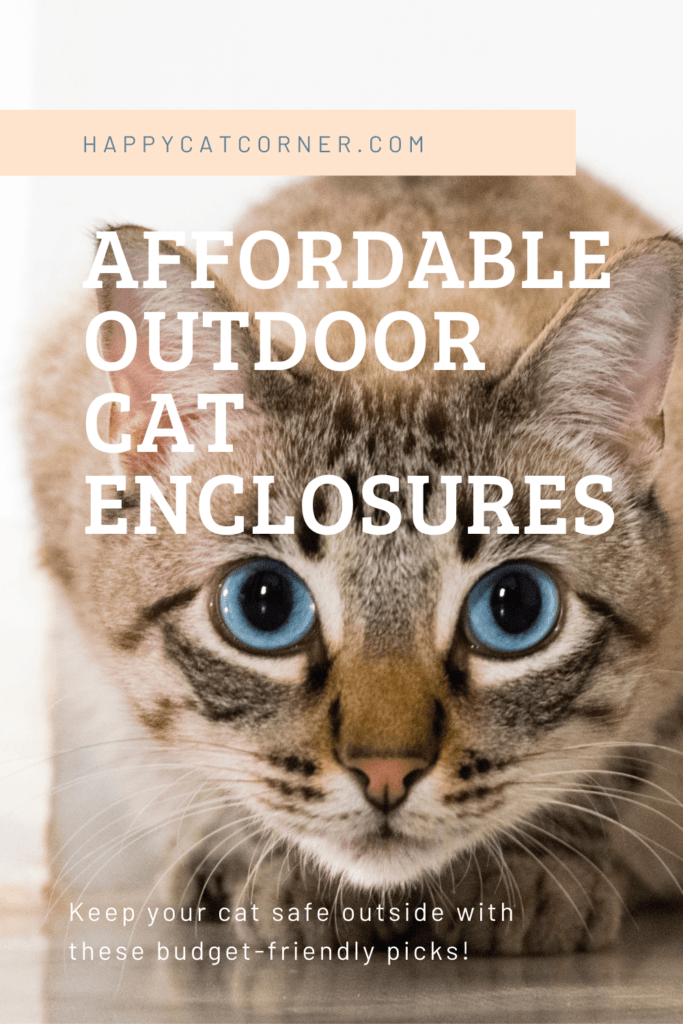 Where do I start?
I recently moved to a new house with a completely fenced in backyard. Foolishly, I thought that my cats Bear and Chickadee might be satisfied just hanging out back there, without trying to escape the fence. WRONG.
The first time I let Bear out, he jumped up onto the top of the tall wooden fence post and over the other side with ease. Doh.
So now I'm looking into the best options for cat enclosures they can play in because they really love to be outside. Because of my lack of building knowledge and access to power tools, I've decided that I'm going to just purchase some kind of unit first, and then hopefully add on to it in the future.
Since I have a limited budget to work with, I want to make sure I get the most bang for my buck.
Here's what I've found.
The Options
First off, there is a super wide range of styles and prices when it comes to outdoor cat enclosures, and whenever I start thinking about how I want to buy or build one, I get overwhelmed. So I decided to break it down starting with the basics.
Portable Mesh Playpens
The simplest and least expensive option would be something more like a cat "playpen" that is portable and made out of a mesh material. A cat-friendly tent, essentially.
They are easy to fold up and move to different areas of the yard or take with you wherever you and your kitty want to go.
Metal Playpen Cages
The next step up into something more durable and spacious are playpen cages. These playpen cages are usually quite large and multi-tiered to encourage play.
Less portable than a mesh playpen, but superior in terms of durability. They are typically made out of metal but can also be made out of plastic.
Wooden Outdoor Enclosures
The third level in the spectrum is a more permanent type of heavy duty structure, made out of wood or a combination of wood and other materials. This is what I am most interested in for my cats because they look nicer than metal playpens and I want to incorporate their outdoor play area into the yard so that it looks natural.
There are plenty of examples of people designing and building their own outdoor cat enclosures, and the options are endless, but for the purposes of this article, I'm going to be looking at prepackaged units.
Price Guide
| | |
| --- | --- |
| $100 and Below | $ |
| $100 – $300 | $$ |
| $300 and Above | $$$ |
Best Portable Mesh Playpens
Price: $
When it comes to mesh playpens, the Outback Jack Kitty Compound is my favorite because of the fun run tunnel. This element is perfect for cats who like to run and explore. I really like the idea of purchasing two tent units and a tunnel to connect them!
The affordability, easy setup, and high degree of portability make this playpen an all around great choice.
Price: $$
The La Luna Cat Cabana is a bit more pricy than the Outback Jack, but I was really excited to find something as large and versatile as this unit. The base unit is 86″ x 43″ x 43″ and includes a kitty hammock, floating platform, and shade sail.
What makes this product extra cool is that you can purchase an add on cube, which can be connected anywhere, even vertically. Additional floating platforms can also be added, allowing you to create a cat paradise right in your yard.
Price: $
If you're looking for something super simple and easy to transport, a foldable playpen might be the style for you. Even less work to put up and take down than the tent style, a foldable playpen is perfect for traveling or moving between indoors and outdoors.
This playpen comes in three different sizes, and for most cats, I'd probably recommend getting the largest size of 48″ x 48″ so they have the most room to play.
Best Metal Playpen Cages
Price: $
One advantage to choosing a metal cage unit like this one is that it can't ever rip or tear. It's also easier to have multiple levels, which is great for cats that love to climb and jump. It doesn't fold up quite as small as the mesh options, but the cage is collapsible and so still transportable.
At less than $100 it's also right up there as a great choice for an affordable outdoor cat enclosure.
Price: $$
This metal enclosure by Prevue is a bit of an upgrade in terms of size. At over five feet tall, it offers even more room for kitties to jump and explore. The downside is that it's not collapsible, but if you don't plan to transport it once assembled, this could be a nice choice.
Price: $
Another option to consider is something like this BestPet playpen which is actually designed to be able to be a chicken coop!
I don't see any reason why it couldn't be used for cats. True, it doesn't have any platforms or climbing elements, but if you're handy you could certainly add some yourself.
The advantage that I see to using something like this is that it's an inexpensive way to provide a large area for cats to play without leaving an imprint on the grass.
Best Wooden Enclosures
Price: $$
There are a lot of reasons why I really like this cat house. Not only does it look nice, but the design is super clever. It allows the upper rear door to open into a window so that the unit can actually be connected to the house. What cat wouldn't love unlimited access to an outdoor patio??
If you really love this cat house, and you are willing to go into the $$$ zone, the design allows you to connect a second unit for an extra large play area. Or, Aivituvin also makes a larger version.
Price: $$$
At 71″ x 39″ x 71″, this spacious catio is a great structure for cats to safely plan in outdoors. It features six platforms and a weatherproof asphalt roof. Unlike other cat enclosures, this one has a large door on the front that a person could get in and out of if needed.
A lot of the reviews say that this is a great cat house and especially so with a few modifications such as painting to match your house color, or reinforcing the roof panels.
3. Petsfit Outdoor Cat House
Price: $$
I'm including this cat house on the list, even though it's not an enclosed structure as is. But I just love the specific design of this unit so much, with the multiple tiers and openings for cats to climb and the cute overlook at the top. This catio offers a lot and is a great value.
For some cats that like to go outside but don't have issues with wandering too far away, this Petsfit house might be enough to entice them to stay in the yard.
Alternatively, if you're crafty, it would make an excellent base unit to add on screens and such to make it more of a complete enclosure.
Things to consider before choosing a cat enclosure
Before purchasing an outdoor play unit, consider both your and your cat's individual needs. Think about questions such as:
How many cats is the unit for?
Is portability a must?
Will it be set up outside year round?
Does my cat like to play on the ground, or is verticality important?
How much space is there for the unit?
Do I want to be able to connect the enclosure to the house?
What is my budget?
Can I add on to the unit in the future if desired?
All these and more are valuable things to think about before making your final decision on an outdoor play structure for your cat. Do any of you have experience with catios? What are your thoughts? I'd love to hear comments and questions below!